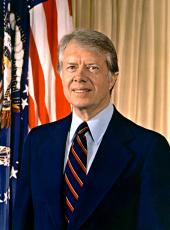 Natural Gas Legislation Letter to the Speaker of the House and the President of the Senate.
Dear Mr. Speaker: (Dear Mr. President:)
I am hereby transmitting the Emergency Natural Gas Act of 1977. This legislation is a simple, temporary measure to enable the government to cope with an unprecedented shortage of natural gas supplies. I want to emphasize that this legislation is not submitted as a substitute for developing a natural gas policy as a part of an overall energy policy, which our country so obviously lacks. We must, however, respond to the present emergency and I strongly urge that the Congress give this legislation its immediate attention.
As a result of record cold east of the Rocky Mountains this winter our country and our people are in trouble. Many natural gas systems have already largely depleted the storage fields from which they must draw to meet essential human needs if the cold weather persists. These shortages have affected pipelines unevenly, but those in the worst situation may not be able to maintain essential services to households and public health and safety institutions unless they are able to obtain supplies from other pipelines.
The natural gas pipelines and the Federal Power Commission are attempting to cope with this emergency, but both agree that existing laws may be inadequate to prevent further human suffering in February. The Federal Government lacks clear and effective authority to allocate supplies needed to meet those needs. In addition, surplus gas may be available in the intrastate market that would not flow into interstate commerce under existing law.
This bill is designed to assure that American homes do not go cold while natural gas continues to be used for lower priority uses. However, the bill will not significantly alleviate the economic hardship from this year's natural gas shortage. Hopefully, the emergency sales provision will enlarge the supply of gas available for all interstate systems. But if cold weather persists, there may be little surplus gas that can flow from the producing states to the rest of the nation.
The severity of the present emergency will be significantly reduced if Americans respond to my request of January 21 to turn down their thermostats to 65° in the daytime and lower at night. Half of the shortage can be made up through such action, thereby decreasing unemployment and reducing the possibility that some American homes might be completely without heat this winter.
This conservation effort will not be enough, however, and temporary legislation must be put in place now. Because of the weather-sensitive nature of this supply situation, this emergency authority may not ultimately be used, or additional authority may be needed. However, this legislation is designed to meet present and foreseeable needs through this emergency period.
There are two basic provisions in this legislation.
First, it authorizes the President to reallocate natural gas among interstate pipeline systems to assure that essential supplies to households and public health and safety institutions are maintained. This authority would expire on April 30, 1977.
Second, it authorizes emergency sales of intrastate natural gas to the interstate market through July 31, 1977 at prices that are fair and equitable, thereby ending legal uncertainties presently connected with such sales.
My Administration has developed this legislation after extensive consultation with' the Congressional committees most directly involved. I believe there is no prudent alternative to this type of legislation to deal with the present shortage situation. I urge its immediate enactment by the Congress.

With best wishes,
JIMMY CARTER
Note: This is the text of identical letters addressed to the Honorable Thomas P. O'Neill, Jr., Speaker of the House of Representatives, and the Honorable Walter F. Mondale, President of the Senate.
Jimmy Carter, Natural Gas Legislation Letter to the Speaker of the House and the President of the Senate. Online by Gerhard Peters and John T. Woolley, The American Presidency Project https://www.presidency.ucsb.edu/node/242972