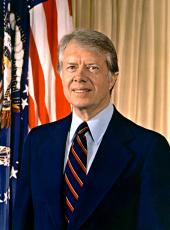 National YMCA Youth Governors Conference Remarks on Greeting Participants in the Program.
THE PRESIDENT. Good morning, everybody. I'm very grateful to have you come here to meet with me. When I was in Georgia as Governor, this was one of the exciting things about my life, one of the more pleasant things that I had to do with government. I know that you've enjoyed your visit here to Washington, which is probably your first official visit to our Capital, and this is also my first official visit to the Capital. [Laughter] And we've got another thing in common in the fact that we all either are Governors or have been Governors.
You've had an almost unique opportunity to see the inner workings of our Government in a concentrated way-brief, but concentrated. I know you've met with David Rubenstein and Jim Fallows on my staff. And I hope that was productive for you, to explain what did occur in the White House, at least from their point of view.
And you've had a chance to meet with Members of Congress, to see that branch of Government. You were here when an historic decision was made by the Supreme Court.
One of the things that I would like to mention specifically as a problem of mine is the historical, constitutional delineation among the different branches of Government, and the fact that that distinction is being clouded considerably in recent years, in particular, in recent months. The Executive has to have the right or the prerogative or the authority to execute, to carry out laws of Congress and to do it efficiently and economically and effectively. And more and more, the hands of the executive branch are tied by intrusions from other branches of Government. We have this as a constant problem in the Cabinet.
This is something with which you can help us. I think that in the past, the decisions made by the Youth Governors and your other State officials in the YMCA-Reader's Digest program have been very good influences on State legislatures. I noticed in preparing for this brief visit with you that more than 400 bills that have been introduced by Youth Governors and their cabinet have later been adopted by State legislatures.
Quite often, you have an innovative attitude and a perspective that might lead the way for the regular assistant Governors and State legislatures to carry out. And I think here you might inquire into some of the problems that I face as a President, and through your own initiative decide what ought to be done and keep the momentum going toward resolution of problems that you detect while you're here in Washington.
We're trying to evolve a national energy policy. We've not been successful so far. But the Congress is making some very slow, tedious, but I think steady, progress. We are trying to restrain the threat of world destruction through nuclear explosives with the SALT agreement, a comprehensive test ban agreement. The Congress passed a very good nonproliferation law since I've been in office to try to hold down the spread of atomic weaponry around the world.
We are also trying to deal with some of our social programs. This time last year, the most pressing problem for me was employment. We've had notable success in that. Now, correlated with it, intimately bound to it is the problem of inflation. We are trying to hold down inflationary pressures, and there I think you can help again.
Almost every pressure that I feel on me as President that leads to later inflation comes from a very fine group of people-those who want to build weapons, those who want to build highways, farmers, educators, veterans, and others—all have demands upon the Federal Government that are legitimate. But when you add them all together, it creates an almost impossible financial circumstance, and the budget deficits increase because very fine people press for special attention to their problem, which is very costly.
The last thing I'd like to say to you is that I consider you to be partners of mine, not only as American citizens—which is part of our democratic form of government-but as recognized leaders already at a very young age. And I hope you won't just rest on your laurels. You not only have shown leadership capabilities—you wouldn't be elected—you've not only shown the ability to fight a difficult battle—because every one of you won election as governor in spite of overwhelming odds, apparently at the beginning-but you've shown some political prowess and some knowledge of our country.
I think that you ought to use this early entry into politics in a way that will benefit our whole country and that you will continue to show your interest in your actions through your college years and that you will later come into government service itself, if that's part of your continuing inclination.
I'm grateful to you, honored to have you here. I think this is the most governors I've ever had at once. [Laughter]
If you don't mind, after we get through, if you would really expedite it and not pause for conversations, I'd like to stand down in front and let you come by and get an individual photograph with each one of you rather than just a group photograph.
TERRY HOFFMAN. Mr. President, on behalf of the 17th National YMCA Youth Governors Conference, we'd like to show you our appreciation for taking time out of your busy schedule to come talk to us this morning.
First, I'd like to offer you this Youth Governors Honor Award given to each of our outstanding speakers, a membership in the National Society of YMCA Youth Governors, and this plaque which is a charter given to the National Capital YMCA, the only YMCA ever to receive a charter from Congress, and it is signed by Abe Lincoln.
THE PRESIDENT. Thank you very much for that.
Thank you, Terry. It's a pleasure for me to receive this award from a Youth Governor, particularly the one from Georgia— [laughter] —particularly one from very close to my home, and particularly from the home of Georgia's fulltime Governor, George Busbee. I appreciate this and will treasure it.
And now, if you would, just kind of in a hurry, come by and let me get a photograph of each one of you. We have a White House photographer.
Note: The President spoke at 9:30 a.m. in the Rose Garden at the White House.
Jimmy Carter, National YMCA Youth Governors Conference Remarks on Greeting Participants in the Program. Online by Gerhard Peters and John T. Woolley, The American Presidency Project https://www.presidency.ucsb.edu/node/249045