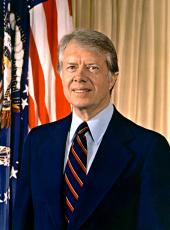 National Women's Political Caucus Remarks at a Reception for Members of the Organization.
First of all, I want to thank you for letting me interrupt your meeting. If it's one person I don't like to follow, it's Barbara Mikulski. She always makes me feel inept and tongue-tied and without humor.
But I do thank you for having me come over. I'm glad to bring my wife, Rosalynn.
I think you've just done two things. One is to stand in silence to honor a woman who was a pioneer in a demonstration of courage in the early days of the civil rights movement, Fanny Lou Hamer. And you've also just recognized a woman who will move into Government, I hope very shortly, to continue that very strong and able fight for civil rights, particularly for women and minority groups, Eleanor Holmes Norton.
I've had the pleasure lately of working with Midge Costanza in choosing some of the women who will meet this year in a continuation of the 1975 Women's Year conventions. They include, as you know, Gloria Steinem, and they include Betty Ford, who's agreed to serve--I'm very grateful for that--and Bella Abzug, who will be the chairman, and others, about 40 other women, who will represent our Nation in a continuing international discussion of women's rights. I'm proud of this effort, and I'm proud to be part of it.
I'd like to say just a couple of other things, though, that relate, some directly, to you and to women who look to you for leadership which are kind of tied in with the other responsibilities that I have as President.
I spent this afternoon receiving reports from Secretary of State Cy Vance on his discussions with the Soviet leaders concerning the control, the strict limitation, and the drastic reduction in nuclear weapons. This is a subject that hasn't been raised in a forceful way before. Previously, we have talked and the Soviets have talked about ultimate limits well above where we presently have stood. Now we are talking about an end to the development, the design, the deployment of new weapons systems; a drastic reduction in intercontinental ballistics missiles we have now; a comprehensive test ban, both military weapon testing and peaceful nuclear device testing; a demilitarization of the Indian Ocean; a strict limitation on the proliferation of nuclear weapon capability to other countries; a strict limitation and reduction in conventional weapon capability; a mutual effort on the part of us, the Soviet Union, France, Germany on sales of conventional weapons to other nations.
We're trying to do all these things. We need your help. And they are crucial to every person and, particularly, to a group as well organized and as forceful as you are.
We're also hopeful that in the future we can have success in our effort to identify abuses and to correct the abuses and to set a new standard in the preservation of human rights throughout the world. I don't intend to yield on this position, because I think it represents what our Nation is and what the world ought to be.
Your forceful voices in constantly espousing the cause of human rights would help me a great deal and help the Members of Congress and help other leaders of our Nation to establish a corps of moral commitment that can restore the legitimate pride in our country, to the extent that is has been diminished, and reestablish the United States of America as the rallying point for human rights around the world. We've not enjoyed that position in recent years. But I'm determined that once again, we'll be a beacon light for those who believe in human rights all over the globe. And you can help me with it if you will.
On the domestic scene, there are just two or three other items. I'd like to mention to you. One, of course, is the passage of the equal rights amendment. I and my wife and my daughter-in-law and others have tried as best we could to join with you in the furtherance of this noble and very necessary change in the United States Constitution.
You might be interested in knowing that the first time I met Ambassador Dobrynin from the Soviet Union he brought up the subject of human rights. And I said, "Well, my position is strong. It's not going to change." He said, "Well, let me point out that the United States is not without fault itself." I said, "I know that, but what do you mean?" He said, "Well, you still haven't ratified the equal rights amendment." And I said, "I tell you what. I'll try to help you with human rights in the Soviet Union; you help me get the equal rights amendment passed in the United States." [Laughter]
But to be serious about it, our failure to pass the equal rights amendment hurts us as we try to set a standard of commitment to human rights throughout the world. I hope we can correct that defect by next year at the latest.
Just a couple of other points. Watch very carefully and participate deeply in the evolution of a new energy policy. This could have broad and far-reaching impact on everyone who looks to you for leadership.
The same thing applies to basic welfare reform that's going to be presented to the Nation on the 1st of May; energy policy, the 20th of April.
Another very major effort that we are undertaking this year on which I need your help is basic tax reform, income tax reform. This will be presented to the American people by the end of September. There are many other major goals that I tried to express as a commitment to the American people during the long campaign. They all touch your lives in one way or the other.
I don't claim to know all the answers. I need you to help me with your support when you agree, with your advice when we're evolving policy, and with your criticism when you think I've made a mistake. I need all three.
And I pledge to you a continuing, unswerving, never-diminishing commitment on my part, as your President, to the goals that you and I know are crucial to a better life for all Americans, including of course the majority of Americans who happen to be women.
Thank you very much. I love all of you, and I appreciate it. Thank you.
Note: The President spoke, at 6:50 p.m. at the Corcoran Gallery of Art after being introduced by Representative Barbara Mikulski of Maryland.
Following his remarks at the reception, the President and Mrs. Carter were taken on a tour of the exhibits by Corcoran Director Roy Slade.
Jimmy Carter, National Women's Political Caucus Remarks at a Reception for Members of the Organization. Online by Gerhard Peters and John T. Woolley, The American Presidency Project https://www.presidency.ucsb.edu/node/243539