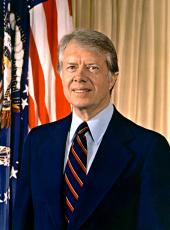 National Urban League Remarks at the League's National Convention.
Mr. McGannon and my good friend Vernon Jordan, distinguished members and guests of the Urban League:
The last annual convention I attended, I went as a guest. And I heard, as the main speaker of the final banquet evening, Eleanor Holmes Norton give a moving speech about the ties that bind families together and how the deprivations of poverty and the lack of an ability of primarily black males to be proud of themselves justifiably was a disruptive influence on the family structure. It was a moving speech.
And now, Eleanor Holmes Norton is in Washington, here with me, trying to bring together the thrust of the Federal Government to ensure equal opportunity in employment. And she'll be part of your program this year.
In Atlanta, as a joint friend of mine and Vernon Jordan's at the time when Vernon was thinking about running for Congress, the man who finally ran for that seat, Andy Young, has become throughout the world the exemplification of what this Nation stands for, what our Government stands for in the field of basic human rights. And Andy Young will be on your program this year as a member of our Cabinet, a man who has a voice of his own, but who works closely with me. And I might say other members of the United Nations have joined with him in letting the deprived people of the world know that the United States, with all its power and influence, is interested in them and is their friend.
We've been concerned about the deteriorating quality of urban centers, and we now have a Secretary of the Housing and Urban Development Department--a woman who understands because of her background and inclination, her experience and her heritage, the problem with struggling people who feel excluded from societal structures--Patricia Harris. And she'll be on your program later on as part of my own administration.
Griffin Bell will be here to explain the new thrust of the Department of Justice. Joe Califano will spell out to you some of the programs that we have already instituted and are instituting to restore dignity to those who are and have been dependent upon government to give them a decent living. Ray Marshall is in charge of our program for bringing into being job opportunities, because we know that there is no end in itself to have a strong enough economy to balance budgets and control inflation, unless that is predicated upon employment--the provision of jobs for people to stimulate our economy and to make it viable and to benefit us all.
Friday night when I got home, my wife met me at the door. She said, "I just watched Vernon Jordan on television being interviewed"--[laughter]--"and he said your administration is not doing anything for people who need help." And I read the New York Times yesterday and this morning, and my wife called me again this morning about 7:30. She says, "Vernon doesn't think you are doing as well as I think you are doing, Jimmy." [Laughter] And I hope in the months ahead that I'll be able to work closer with Vernon Jordan at the White House-where I spend a great deal of time working and planning with Members of the Congress.
Parren Mitchell, the head of the Black Caucus, was in my office Thursday going over not only the accomplishments but the remaining needs that have been addressed and are being addressed by the Democratic Congress and the Democratic President. We haven't done everything we would like to do, nor have we done everything that we're going to do.
I've been in office now 6 months--have no apologies to make--and I was trying to think of a story to illustrate that sometimes an immediate transformation can't be accomplished when problems have been there for years or terms of Presidents or even generations. Griffin Bell, who will speak to you later, has a favorite story about a man who was arrested for getting drunk and setting a bed on fire. When he got before the judge, he said, "Judge, I plead guilty to being drunk, but the bed was on fire when I got in it." [Laughter] Well, to some degree, the bed was on fire when I got in it. [Laughter]
The point I want to make is that we're trying as best we can to make progress. I think you'll judge before this convention is over that I don't speak with a lonely voice, that the members of my Cabinet are united with me, and that there is no division between the Urban League and my administration. But we do need to have a closer working relationship because it's obvious that we have a long way to go. And we can get to our destination of having a decent life for all Americans if we work close together in a constructive and cooperative fashion.
Among my first proposals as President was one to stimulate the overall economy and especially to provide jobs for teenagers in the inner cities. We've now established a program to provide 1.1 million jobs, summer jobs, for youth more than ever in history. We proposed, in addition, a youth employment program with 1.5 million jobs for unemployed youth.
We've doubled the size of the Peace Corps, the Job Corps, and we've more than doubled the public service jobs for the unemployed--from 310,000 to 725,000, nearly half of these for the long-term unemployed.
Soon, before August 5, we'll be sending to the Congress our proposal for basic welfare reform. Jobs will be the thrust behind this reform program for those who are able to work and self-respect and adequate living conditions for those who are not able to work. Our goal is for all those who want to work to be able to find work so that they can be independent and so they can be proud and they can be selfsufficient.
And I'd like to point out that an emphasis on jobs and work for those who are able is not discriminatory, it's not moving backwards, and it's not a deprivation of basic rights. What we want is for people who are able not to be permanently dependent on government, but able to stand on their own feet, support their own family, and have a constructive attitude toward our society.
In this welfare proposal, there will be an additional 1 million job opportunities. Our goal is to make sure that every single family has a member of it with a guaranteed job, by government if necessary, and this is a goal that we intend to reach. But let me mention--[applause]--may I mention a few other items of major concern.
We're concerned about young people's health. We propose an $18.9 million program to immunize 5 1/2 million poor children from preventable diseases over the next 30 months, and we'll raise the number of poor children screened for medical purposes from less than 2 million last year to 9.8 million before I go out of office.
I said during the campaign that the tax system was a disgrace, that it was most unfair to people with low and average incomes. We've been working now for 6 months on a tax proposal that will be simpler and fairer and will reduce the burden on the average American. But in the meantime, we have already gotten Congress to agree--the bill has been signed, it's been passed into law--to reduce taxes $4 billion with the primary emphasis on the low- and middle-income families, which means that a family that makes about $10,000 a year on a permanent basis would have a 30-percent reduction in their income tax payments. That's already been done.
Walter Mondale, my Vice President, worked for years unsuccessfully, 8 years, to try to get a $100-million increase in the Title I programs for a better education for poor people, poor children. We have already proposed, and the Congress has already agreed, to increase the Title I program more than $350 million.
We've made a major expansion in what is called countercyclical revenue sharing to focus into the most deprived urban ghetto, unemployed areas, to be administered by Patricia Harris. And I've already signed into law a $4 billion public works bill. Under a new urban program that we are proposing, the Secretary of HUD, Patricia Harris, will have the authority to target large amounts of this money, in her judgment, on areas that are the most needy.
For a long time in the past whenever a Federal program was approved by the Congress and the Republican Presidents, a large portion of that money went to areas where the need was least, in the suburban areas for housing and jobs went to areas with already low unemployment. We have reversed that now, and we're going to send the Federal money where it's needed most.
Another of my first tasks has been to reorganize the Federal Government and to handle discrimination complaints faster and more effectively than we have in the past. The Equal Employment Opportunity Commission now has a backlog of 130,000 cases. Many of these cases aren't considered for 3 years. There are seven different Federal agencies that are supposed to be taking care of these needs, these discriminatory practices. That's not been done yet.
Because these cases have dragged on so long, quite often the witnesses have disappeared and the victims have given up. This is one of our top priorities--to reorganize the structure. It's not an easy or quick thing that can be done, and the person in charge of it is Eleanor Holmes Norton.
I'd like to outline very briefly for you, in the time I have available, some of the achievements already. But I want to emphasize again, I'm not bragging about it because we recognize, as does Vernon Jordan, my friend, that we have a long way to go. We've set as a goal for this year the reduction of the unemployment rate from 8.1 percent, which it was last December, to 7 percent by the end of this year. We've already reached that goal, and we expect it to go on down, perhaps as low as 6.5 percent before the end of the year, with a trend downward that will be maintained.
We have also created just a few of the jobs that I have described to you. Of the $4 billion public works bill--the benefits that have not mirrored in the reduction in unemployment that we've already seen; that's still to come because it takes a long time to get these programs going once the Congress approves the measure--of the $4 billion, we last week signed the first contracts for less than one percent of the money that's available. But beginning with this week, we will be approving 1,000 public works contracts per week, and we'll have all $4 billion allocated by September 30 and, for the first time, for the first time, 10 percent of every contract must go to a minority subcontractor or supplier. This can mean $400 million in additional, new income for minority business men and women.
Now, I mentioned an increase in the public service jobs from 310,000 to 600,000. That legislation is just now being passed, and it will be the end of September-September 30--before we have the 725,000 people involved.
Right now, we are adding 15,000 public service jobs per week. Our proposal for youth employment has now passed the Senate and House conference, and I expect to have it at the White House for signature next week. It will create over 200,000 jobs in a National Youth Conservation Corps, built on the old Civilian Conservation Corps that was put into effect by Franklin Roosevelt. And we are just doubling the Job Corps slots to 40,000. Now, this is a program that's been approved, but it hasn't yet been put into effect. But it will be put into effect rapidly now that we have it on the books.
Income security--a lot of people are concerned about the social security system. We have proposed to the Congress-I hope they'll act quickly--to make sure that we have a sound social security system. And we have made a proposal to put it back on a sound basis without increasing the tax rate of American workers above what's already been prescribed by law.
I want to mention food stamps--again, an income for poor people that's very valuable but, as you know, in the past they've had to have cash money to buy food stamps. We have proposed, and the Senate has already approved, and I hope the House will approve quickly, the elimination of any requirement to purchase food stamps. In the future they won't have to buy them.
We're taking the first step towards comprehensive health care by proposing to the Congress hospital cost containment. The price to sick people of hospital care has gone up too rapidly. It is now doubling. It's now doubling every 5 years, about twice the rate of growth of the normal, nationwide inflation rate.
By early next year, we'll have a comprehensive package of health care to put forward. And we're prepared to move more rapidly but, I have to tell you, frankly, that the Congress this year has almost all it can handle. But I've worked out with the congressional leaders that next year they'll start their full work on a comprehensive health care system for our country.
I want to add just a couple of more points. Then I'll be through.
We are concerned about the rebuilding of American urban centers. I won't cover what Patricia Harris is going to cover in her speech, but we've asked for $5 billion increase in budget authority and proposed new formulae to focus this attention where it's needed most. In housing we are increasing Title VIII sections of housing, reviving the 202 housing programs for elderly people. We've proposed an extension of $200 million in separate funding for private day care services, and action by both Houses of Congress is quite near. And we recently proposed major reforms in the foster care system to permit more easily approved adoptions and to hold families, again, together.
I could go on and on, because the list of programs is very long and the amount of money involved is very great, and the eagerness to implement these programs by me and the Democratic Congress is there and the Cabinet officers and administrators contains an attitude not of holding back what Congress has approved, as has been the case too often in the past, but an eagerness to put into effect these programs completely and without delay.
Now, I've mentioned a lot of figures to you. I've talked a lot about programs that we've already passed, about a lot of money that's already been appropriated. And then you might say, "Well, he's talking about a lot of money and a lot of help. But I haven't seen that money in my Community yet." But the point I'm making to you is it takes time to change the trends of history and to reverse the bureaucratic mechanism to one of support and compassion and concern and enthusiasm from what was formerly reluctance or lack of enthusiasm.
We have, obviously, a long way to go. So, when I talk about these figures, it's not with a sense of final accomplishments. It's with a sense of dedication to the future to perform as President of our great country in such a way as to make you proud and to let you feel that there is in the White House and there is in the Democratic Congress and there is within the Cabinet members of my administration a partner with the Urban League, eager to work in the private and governmental sectors toward common goals. I'm talking about real money, real programs to help real people in real need of help.
And I'm not talking about just abstract figures--although a billion dollars is a lot of money--or meaningless statistics about percentages of reduction of unemployment. I'm talking about a flood of new programs that will be coming into your own community in the weeks and months ahead. I'm talking about my administration living up to its commitments to the poor and to the hungry and to the timid and to the weak and to the unemployed.
I need your partnership and you need my partnership. And I believe that that partnership is available to us and it can have a profound impact so that you and I and my Cabinet and the Congress together can make this a better place in which to live, particularly those who haven't yet realized the guarantees expressed 200 years ago by our Founding Fathers, of life and liberty and the pursuit of happiness.
We've made great strides in this country already. We still have a long way to go. And you've got my pledge to respond well to counsel, to advice, to caution, and to criticism. And I believe that this can be very constructive. And together we can put smiles on the faces instead of tears, and we can have a support of our system of government instead of a lashing out because deprived and unemployed people feel alienated from the structure of society that's been so good to all of us here.
Those are my hopes and my dreams and my prayers.

You're partners with me and Vernon and all of you. I'm proud of that partnership and what it can mean to us in this greatest of all nations on Earth.

Thank you very much.
Note: The President spoke at 9:05 a.m. in the International Ballroom at the Washington Hilton Hotel. Following his remarks, he met privately with Donald H. McGannon, president of the board of trustees, and Vernon E. Jordan, Jr., executive director, of the National Urban League.
Jimmy Carter, National Urban League Remarks at the League's National Convention. Online by Gerhard Peters and John T. Woolley, The American Presidency Project https://www.presidency.ucsb.edu/node/243393