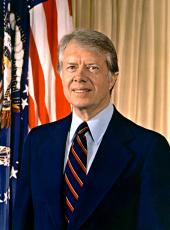 National Historic Preservation Act Amendments of 1980 Statement on Signing H.R. 5496 Into Law.
I am pleased today to sign into law H.R. 5496, the National Historic Preservation Act Amendments of 1980.
This landmark historic preservation legislation-the first major amendment to the National Historic Preservation Act since 1966—will provide better definition and guidance for programs at all levels of government. The bill clarifies the responsibilities of all Federal agencies with respect to historic preservation, provides a statutory basis for State historic preservation programs, and gives local governments a specific role in the preservation effort. Local governments will be included in the process of reviewing nominations to the National Register of Historic Places and will be eligible to receive grant money from the Historic Preservation Fund. This legislation also provides mechanisms to increase private sector involvement in historic preservation activities, and it reauthorizes the Historic Preservation Fund through 1987 at an annual level of $150 million. These features will strengthen this highly successful program by increasing public participation and by encouraging more decentralization in decisions affecting historic properties.
Although this bill greatly improves our Nation's historic preservation program, it contains other provisions that I find troubling.
The bill provides that certain executive functions be performed by the Advisory Council on Historic Preservation, not all of whose members are appointed by the President in conformity with the appointments clause of the Constitution. To avoid a constitutional conflict, individuals not so appointed should participate only in the Council's advisory activities.
The bill also raises certain constitutional questions about the authority of the Council to conduct litigation on its own behalf. While I believe the bill can be construed so as to avoid constitutional infringement, I have asked the Attorney General to study the matter and advise the Council regarding his conclusions.
Finally, the bill raises the question of whether Congress may, by concurrent resolution not presented to the President for his approval or disapproval, veto regulations issued by an executive agency. As I have noted on prior occasions, I oppose this legislative veto device, and pursuant to my message to Congress of June 21, 1978, I will treat these legislative vetoes as report-and-wait provisions.
This administration has actively supported legislation to protect our historical heritage, and I salute the Members of Congress—particularly Senator Bumpers and Congressman Seiberling—and the historic preservation organizations who have worked so diligently to secure the passage of this bill.
Note: As enacted, H.R. 5496 is Public Law 96-515, approved December 12.
Jimmy Carter, National Historic Preservation Act Amendments of 1980 Statement on Signing H.R. 5496 Into Law. Online by Gerhard Peters and John T. Woolley, The American Presidency Project https://www.presidency.ucsb.edu/node/250562