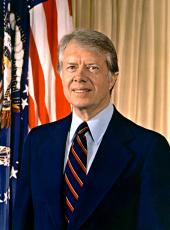 National Highway Safety Advisory Committee Appointment of 12 Members to the Committee.
The President has appointed 12 persons as members of the National Highway Safety Advisory Committee for terms expiring March 15, 1980. They are:

OSCAR H. EDMONDS, JR., 53, of Memphis, Tenn., president of Edmonds Material and Equipment Go. and Mid-South Equipment and Supply Co.

HAROLD A. FENNER, JR., M.D., 53, of Hobbs, N. Mex., an orthopedic surgeon and consultant on medical aspects of automotive safety.

CARLTON FISHER, 42, of Decatur, Ga., Georgia Governor's highway safety representative and a former Georgia state trooper.

CHARLES H. HARTMAN, 44, of Delta, Pa., president of the Motorcycle Safety Foundation and a former Deputy Administrator of the National Highway Traffic Safety Administration.

DEBORAH KAPLAN, 27, Of Washington, D.C., director of the Disability Rights Center and chairperson of the National Disabled Women's Caucus.

WILLIAM O. MAYS, M.D., 42, of Bloomfield Hills, Mich., a practitioner of internal medicine and former Wayne County (Michigan) medical examiner.

BETSY F. RAHN, 65, of Walnut Creek, Calif., judge of the municipal court of the Walnut Creek-Danville Judicial District.
J. PHILLIP RICHLEY, 51, of Youngstown, Ohio, recently elected mayor of Youngstown and former director of the Ohio Department of Highways.

KALISTE J. SALOOM, JR., 59, judge of the city and juvenile courts of Lafayette, La.

BASIL Y. SCOTT, 52, of East Greenbush, N.Y., administrative director of the New York State Department of Motor Vehicles and Chairman of the National Motor Vehicle Safety Advisory Council.

LYNNE SMITH, 33, of Washington, D.C., an analyst and writer for the Insurance Institute for Highway Safety and former director of the Center for Auto Safety's highway safety project.
REBECCA C. YOUNG, 43, of Madison, Wis., deputy secretary of the Wisconsin Department of Administration and former commissioner of the Wisconsin Highway Commission.
Jimmy Carter, National Highway Safety Advisory Committee Appointment of 12 Members to the Committee. Online by Gerhard Peters and John T. Woolley, The American Presidency Project https://www.presidency.ucsb.edu/node/242793