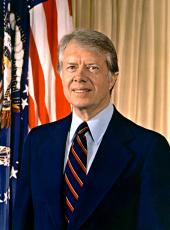 National Caucus on the Black Aged Remarks at a White House Luncheon Honoring Recipients of the Organization's Living Legacy Awards
Well, I've had the privilege, which has not been the good fortune of many Americans, to be introduced twice in the same day by Aaron Henry, and I appreciate that.
Mr. Chairman and members of the National Caucus on Black Aged, it's really an honor for me as President of our Nation to participate in a ceremony, a social event, a gathering which indeed is unprecedented in the history of the White House.
I've looked with great care at the name of this organization—Aaron Henry has not let me forget it—since I've been President. And we're delighted to have a chance to be the hosts for an inspiring occasion like this one.
I notice there are a couple of words that I would change if I were naming the organization again. I think "national" is really a little too narrow in scope. If there ever was an event that has international overtones, I would say it is this one, because distinguished black Americans have not only been an inspiration to the people of the United States of America, they have set an example of leadership, dedication, courage, and achievement that's an inspiration throughout the world.
And the word "aged" to me seems a little inappropriate as I look around at the list of the honorees today. Maybe if it has to start with "a," maybe "ambitious"— [laughter] —or maybe "aspiring" or at least "ageless," because I can't imagine anyone looking on Dr. Martin Luther King, Sr., or Jesse Owens or Roy Wilkins or Gus Hawkins and thinking about the word "aged," because they have shown us that there is no age limit on achievement and inspiration and dedication. And every person who's being honored here today is indeed a notable citizen of our country whose own life's events and accomplishments far exceed their own circle of friends and personal acquaintances.
I would like to introduce each person individually who's being honored here today. As you well know, each one is worthy of a very extensive biographical description. But I'll just say a very few words about each one, not doing anyone justice, but letting them bask in the glory of the fellowship which they enjoy, because as they look around and see the others who are being honored, that in itself is a great honor indeed.
I'd like to begin my presentation with a man who has joined me in the last 2 years, since I've been President, as a great and distinguished leader of the Congress, a man who's being honored today because of his accomplishments in one of the most aged professions, and that is politics, a man who is a Democratic Congressman from Los Angeles whose name has been associated with notable achievements in congressional history, who's been active in California politics up until the time he was elected to the Congress in 1962. He's an original native of Louisiana, and I would like to introduce to you one of our distinguished honorees, Augustus Hawkins.
Another very famous person who can't be with us today, who is ill, has been known by Americans of every race and creed because of her achievements in the field of literature. Ms. Margaret Walker Alexander, prominent poet, novelist, native of Birmingham, Alabama, her poetry includes: "Prophets for a New Day," "October Journey," and her very famous novel, "Jubilee."
And I'd like to recognize her in her absence and ask you to give her a round of applause, even though she isn't here.
The next person I'd like to .recognize is Ms. Septima Poinsettia Clark, in the field of human services. She's a prominent educator.
Ms. Clark, just stay standing for a few minutes. I just want to say a few more words while you're standing. Let everybody look at you. [Laughter]
She did her graduate work at Hampton University. She taught in the Charleston, South Carolina, schools, and she exemplifies, as do many of those who are being honored today, a special courage that was required when she spoke out so courageously for the impetus in the early years of the civil rights movement. Because she was active in demanding civil rights for her people, she lost her job and she also lost her retirement pay. She's been active in the Southern Christian Leadership Conference, and I think she exemplifies not only notable achievement but superb courage in public service.

Thank you very much.

Mr. Malvin Goode, in the field of communications. Would you please stand?
Nowadays we see many black commentators on television, many black performers in the public arts. We hear many black voices on the radio, giving a balanced tone to the report of public events in our country. But this honoree has served superbly for a long period of years.
He was a pioneer in news broadcasting, prominent news broadcaster for ABC, and also a United Nations correspondent for ABC, originally a native of Virginia. And he's brought a balanced analysis and accurate reporting of the news, the understanding of human events, not only in our country but internationally.
And I want to express my deep thanks to you for what you've meant for our country, Mr. Goode.
Dr. Montague Cobb. I think everyone knows the importance, not only in the present time but especially in past years, to have superb professional training in the service of black people when adequate education opportunities, adequate social services, adequate medical care was not available, when it required a special degree of dedication because of the extremely burdensome responsibilities, because of the small number of highly professional trained Americans to serve so many people for each one of those professionals.
We also know how difficult it must have been at the time, when one was a student, to get a doctorate in medicine. In the field of science and health, Dr. Cobb, a medical doctor, a medical educator, an editor, a professor of anatomy at one of our great medical schools, Howard University, a native of Washington, D.C.
On behalf of the people of the United States, Dr. Cobb, I thank you.
Reverend Dr. Gloster Current, a man who, when he stands, brings a lot of smiles on the faces of people who know him. A bright, invigorating personality, a great sense of humor, a natural leader, active in the NAACP since its early days, a native of Indianapolis, he has been a religious leader throughout his adult life, has never even known the definition of the word "retirement," Bishop, New York Conference of the United Methodist Church.
Reverend Dr. Current, congratulations to you and my best wishes and thanks.
It would be difficult for me to single out any special person in this group, but if I had to single someone out, I think most of you could guess who it would be. And I would like to ask Dr. Martin Luther King, Sr., to stand. And remain standing, please. [Laughter]
I look on Dr. King not only from the perspective of a distinguished American honored by a President, but I look on him in many ways as a son would look on a father. He's a native of my State, and I have observed him and his most distinguished family being a beacon light of truth and integrity, of distinguished service, of inspiration to me, to many others in this country, and indeed throughout the world.
I believe that in honoring a Methodist bishop, a Baptist preacher, that almost everyone, whether black or white, sees very clearly that the proper melding of deep religious conviction and leadership combined with the service of the downtrodden, sometimes the despised, the poor, the suffering, has been melded never so adequately in history, with the exception of the life of Christ, than it has in the black civil rights movement of recent years.
When it was impossible for a black voice to be heard clearly in the South, in a courtroom or a courthouse or even a public school, the black churches were a haven for liberty. The black colleges supported by churches were the origin of the development of high intelligence and dedication. And the organizational structure that resulted in this dramatic change in our Nation for all citizens originated in the deep, dedicated, unselfish service of the religious leaders.
Dr. King, as you know, is the pastor of Ebenezer Baptist Church in Atlanta, where I have been many times. His family has suffered more than it should, but in the suffering has produced martyrs whose influence has been explosive in affecting the lives of other people. He is one of the founders of the NAACP; his son, the leader of the Southern Christian Leadership Conference.
And I'm honored and our Nation is honored by the family of Dr. Martin Luther King, Sr., and by his own personal achievements, which have been an inspiration to his wife, his children, his many blood relatives, and those of us, like myself, who consider ourselves also to be part of his family.
In the performing arts, I'd like to recognize Ms. Dorothy Maynor.
The South is well represented here today. Ms. Maynor is a concert singer from Norfolk, Virginia, world famous, discovered by Mr. Koussevitsky in 1939. She sang in concerts more than 25 years all over the world. Sometimes she was permitted to sing in foreign countries when it was very difficult for her to find a stage or an audience where she could demonstrate her superb ability here in her own country. This took a special dedication and an extraordinary talent to overcome the obstacles that were placed in her path. When she retired from her full-time service to humanity as a superb performer, she founded the Harlem School of Arts to aid young Americans, and in every aspect of life, hers has been admirable.
And I express to you, Ms. Maynor, my congratulations, my thanks, and my love.
I guess it's impossible for a son to have two fathers, but I'd like to ask Dr. Benjamin Mays to stand.
One of the greatest educators this Nation ever produced. He didn't have to be a full-time preacher to preach. [Laughter] And he produced, through his inspirational leadership, wisdom, confidence in struggling young black Americans, leaders that indeed have inspired us and have been a great satisfaction to him as well; still very active in his commitment to the preservation of the character and the quality and the service of the predominantly black colleges, the historical black colleges and universities of our country.
The Atlanta University complex was the center for wisdom, judgment, and influence in the times when those attributes were difficult to find for a black American. And Dr. Mays represents these high ideals as well as anyone I have ever known. He's a past president of Morehouse College. I'm one of the distinguished honorary alumni of Morehouse. And as I always say, I may be the first alumni of Morehouse to be President, but I'm sure I won't be the last one.
As you know, he's presently the president emeritus of Morehouse and also is the president of the United Negro College Fund. This fund itself has not only kept the great black colleges alive, but through its own fundraising efforts and educational programs, it has acquainted many distinguished white American leaders with the superb accomplishments of black students, black educators, and other black Americans who have performed in their own lives so well.
He's a native of South Carolina, but we claim him from Georgia. And, Dr. Mays, I thank you on behalf of the 220 million Americans who've benefited from your life's service. And I urge you, as President, not to ever let that service terminate nor be lessened in any degree, and I'm sure you will answer my request. Congratulations to you.
I don't believe that Mrs. Rosa Parks has arrived yet. She was trying to get here. I presume that she's traveling this time by airplane. [Laughter]
Recently at the Black Caucus banquet I had the honor and pleasure of calling her up to the stage to put my arms around her and to let her know in front of several thousand people the debt that our Nation owes to her.
Most of the people that I've mentioned this afternoon have been highly trained. They were college graduates with masters or doctors degrees, highly specializing in education or the arts or religion. Rosa Parks was apparently an average citizen. I doubt if she could have expressed in as eloquent terms the aspirations of black Americans nearly so well as Dr. Benjamin Mays, nor Dr. Martin Luther King, Sr., or many of you, but in a quiet way, she let her own influence be felt in a far greater degree than many who had opportunities far exceeding her own.
She had a certain degree of intelligence and integrity, yes. But she had a superb degree of courage. And knowing the Deep South as I do—Americus, Georgia; Albany, Georgia; Montgomery, Alabama; Birmingham, Alabama; parts of South Carolina, Mississippi—and looking back 20, 25 years, the courage that she showed is truly overwhelming. And I know that all of you realize that it was her insistence that she would show the rights of black Americans in an understandable way, a simple way, that aroused a nation eventually to accept those rights as a part of American life, and to correct ancient discriminatory actions even under the guise of American law. And I wish she was here, but in 1955, she took one small step that led to a revolution in our country.
She's a native of Alabama, the former State secretary of the Alabama NAACP, and a woman who's an inspiration to us all. And I would like again to express my thanks to her, my congratulations to her, and a recognition, as President, of what she's achieved for our country. She's indeed in her own way a great stateswoman of the United States. Thank you very much.
Another honoree who couldn't be here today is A. Phillip Randolph, representing the labor movement. But Bayard Rustin is here to represent Mr. Randolph.
I think that throughout the earliest days, even before the time when Rosa Parks or Martin Luther King, Jr., were famous, there was a sense throughout our Nation that A. Phillip Randolph stood for higher aspirations and equality of black Americans. He organized the Brotherhood of Sleeping Car Porters in 1925. He was the vice president of the AFL-CIO, organized the first March on Washington For Civil Rights in 1941.
He's a native of Florida. This year he's 90 years old. And I think that those who came later obviously saw him as having set a courageous example to be emulated. And Bayard, I hope that you will extend to Mr. Randolph my appreciation, recognition, and my friendship for the superb leadership that he gave many of those others who are being honored here in the White House this afternoon.
In Government, it's been indeed rare when a black American could become a member of the Cabinet of a President of the United States. And I'd like to ask Dr. Robert Weaver to stand, if you will.
Dr. Weaver has been an innovator. He's been a credit to our country in every sense of the word, in every job that's been assigned to him. He's an economist, an educator, and a superb public administrator. He's professor of urban affairs at Hunter College, a native of Washington, D.C., former Secretary of the Housing and Urban Development Department, and an inspiration to many of us, Dr. Weaver, who presently serve in the Federal Government. Thank you very much for your notable achievements.
Did Mr. Asa Spaulding arrive? Asa, you had me concerned.
He's being recognized for his achievements in business. He's a native of North Carolina. He's president of the North Carolina Mutual Life Insurance Company, and his extensive public service is exemplified by his willingness to perform superbly on the board of trustees of Howard University. And as all of you know, in his position of leadership in his own State and throughout the South, he's been a strong, active supporter and has added the financial strength and the prominence of his own achievements to the success of many of those who struggled to give black Americans their long overdue civil rights.
And I want to thank Mr. Spaulding and congratulate you, Mr. Spaulding, this afternoon.
Dr. Charles Wesley. Again, a man who combines the great achievements of a wonderful intellect in several realms of life, as an author, historian, educator, as a presiding elder in the AME Church, Dr. Wesley has indeed shaped the realization of Americans of the wonderful achievement of black citizens whose own lives' meaning might very well have been overlooked or ignored. He's a retired president of Central State University, Wilberforce, Ohio; he's pastor and presiding elder of the AME Church, and the author of books on black history; native of Louisville, Kentucky.
And I thank you, express my admiration and my congratulations to you, Dr. Charles Wesley.
Mr. James Van Derzee? Just hold your hand up and we'll applaud.
Mr. Man Derzee represents the fine arts category. He's the dean emeritus of black photographers in America. He's a person who shaped the attitudes and opinions and aroused the support of deprived, needy black Americans who lived in Harlem. He recorded on film in the most superlative way the lives of Afro-Americans who lived in urban centers, where life's deprivations are sometimes overlooked.
He received the American Society of Magazine Photographers Award for an exhibit called "Harlem On My Mind" at the Metropolitan Museum of Art in 1969. I don't think that Mr. Van Derzee would object to my saying that he's this year 93 years old. He's a native of Massachusetts and has honored us by his presence. Congratulations to you.
How many of you remember 1936? [Laughter] I've already been told that some of you were married in 1936, and if anyone asked me before this day, "What do you remember about 1936?", I would have said that the achievements of a black American athlete inspired the world. And I would like to ask Jesse Owens to stand.
Nineteen hundred and thirty-six was the year when Hitler was spouting the philosophy of racial superiority. The Olympics were being held in Germany, and it was a time in our own country when it was difficult for black athletic ability to be adequately recognized. There were no professional black baseball players in the American and National Leagues; professional teams excluded our own citizens. But a young man who possibly didn't even realize the superb nature of his own capabilities went to the Olympics and performed in a way that I don't believe has ever been equaled since.
Jesse Owens is a collegiate track star. He was the first athlete to win four gold medals in one Olympiad. He's a native of Alabama. And since this superb achievement, he has continued in his own dedicated but modest way to inspire others to reach for greatness.
And I thank you for what you did for us in 1936, and what you've done for us every year since, and what you will do for us in the future, Jesse Owens. Thank you very much.
Now I'd like to ask Mr. Roy Wilkins to stand, please. If you feel like it, Roy, please stay standing.
I've been really pleased today at how strong and vigorous and healthy he looks—much better than the last time I saw him, so he's being well taken care of.
On occasion in our country there lives a person whose life is one of decency, dedication, honesty, modesty, and superb achievement, who, because of his own inner convictions, in a quiet fashion, can organize, inspire, and lead others. Roy Wilkins, as you know, is a long-time executive secretary of the NAACP. He's been prominent in civil rights activities since the earliest days of a viable movement.
In times of discouragement and despair, he never lost his commitment nor his dedication nor his confidence that the right could ultimately prevail in a society of free men and women. And it's an honor for me, as President, to recognize again a man who's being honored by you in the field of civil rights, which has touched the life of every person here.
Roy Wilkins, on behalf of the people of our country, I thank you and I congratulate you.
Let me say in closing I know it's an honor to come to the White House. It's certainly an honor for a President to serve here. But in my opinion, today in a special way the White House has been honored.
Many thousands of people throughout our country have performed great service as black Americans to those who've looked to you for leadership and to others who share with you the privileges of citizenship in the greatest nation on Earth. You have helped to write history, and you've proven that the strength of the human spirit can achieve excellence, even in the face of extraordinary obstacles. You have a living legacy that exists in your own physical lifetime, and you have a legacy that will succeed all of us who are here today. And I want you to know that your lives have been a model already to many others.
This is a day of privilege for us to share with you this occasion. And it's a day of inspiration to have these potentially unsung heroes recognized, in many instances perhaps a little bit late, but the correction of this mistake by the action of the National Caucus on Black Aged has been a very well chosen decision. And my wife, Rosalynn, and I, all those who serve in our Government are pleased that we could be a part of such a wonderful and inspirational occasion.

Thank you very much.
Note: The President spoke at 12:45 p.m. on the State Floor of the White House. In his opening remarks, he referred to Aaron Henry, chairman of the National Caucus on the Black Aged.
Jimmy Carter, National Caucus on the Black Aged Remarks at a White House Luncheon Honoring Recipients of the Organization's Living Legacy Awards Online by Gerhard Peters and John T. Woolley, The American Presidency Project https://www.presidency.ucsb.edu/node/248870