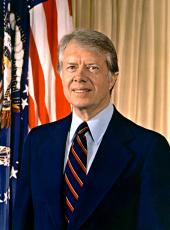 Minnesota City, Minnesota Informal Exchange With Reporters at the Docking Site of the Delta Queen.
Q. Learned anything today? [Laughter] Seriously.—
THE PRESIDENT. Well, if I have a chance with the folks on the ship—[inaudible]. Well, I've learned that at the first stop with us in Wabasha, and I think it's obvious they are genuinely interested in saving energy and in proving that our country can be unified and that there is a good harmony among those who have different backgrounds and different interests. I think the turnout here shows a great deal of interest obviously in the office of the Presidency, and I consider it to be a nonpartisan sort of expression of support for the President himself and for this Nation's strength.
Q. Did it seem to you that people were a little bit more upbeat than you might have expected?
THE PRESIDENT. Yeah, they really are. It's been surprising. I thought in St. Paul last night the genuine excitement that they showed in that city in putting together a very far-reaching kind of a complicated approach to the energy question was also inspiring to me. And I think the general tone of the response and the attitude of people toward one another, toward our country is one of great patriotism and strength. I've been very pleased.
Q. Are you getting any rest?
THE PRESIDENT. Enough. This has just been really exciting to me.
Q. One final question. We're standing on the wet bank of the Mississippi here.
THE PRESIDENT. I noticed that. [Laughter]
Q. A question someone in the crowd asked, but I didn't hear you answer it. Wouldn't it be fair to call this campaigning?
THE PRESIDENT. Well, I—you know, I want the people to be reminded of the Nation's energy problems and the fact that we can solve those problems. And so, it's a vacation for us. We're enjoying every minute of it, and I think for me to give that message as we go along is very important. So, we're campaigning for a good energy program, but not on a partisan basis. I think the people that come here—I don't know whether they're Democrats or Republicans—they come because I'm President. It's not a partisan campaign for Democrats or for me. It's a campaign for a stronger country and a comprehensive energy policy.
Q. What do you think of this boat?
THE PRESIDENT. I like it. Don't you?
Q. The boat's leaving.
THE PRESIDENT. I can't believe it. The boat's going to leave me. The boat's leaving. I've got to get on board.
Note: The exchange began at approximately 4:30 p.m.
As printed above, the item follows the press release.
Jimmy Carter, Minnesota City, Minnesota Informal Exchange With Reporters at the Docking Site of the Delta Queen. Online by Gerhard Peters and John T. Woolley, The American Presidency Project https://www.presidency.ucsb.edu/node/250439