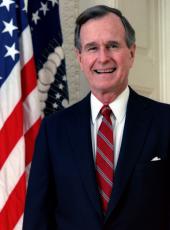 Mexico-United States Joint Statement on Negotiation of a Free Trade Agreement
During their June 10 meeting in Washington, the Presidents of Mexico and the United States held discussions on bilateral relations, with the particular purpose of broadening and strengthening economic relations between the two countries. Both Presidents agreed that their two countries must look to the future and devise ways to meet the challenges of the 1990s and the next century, establishing a climate of greater stability and confidence for trade and investment.
The Presidents share a commitment to forge a vigorous partnership for sustained economic growth and opportunity -- one which will open markets, so that trade and investment can expand further.
The two Presidents have determined that a comprehensive Free Trade Agreement is the best vehicle to achieve these ambitious objectives and, therefore, agree to move in a timely manner toward that end. They are convinced that free trade between Mexico and the United States can be a powerful engine for economic development, creating new jobs and opening new markets.
Accordingly, they have directed Ambassador Carla A. Hills, the United States Trade Representative, and Dr. Jaime Serra Puche, the Minister of Commerce and Industrial Development of Mexico, to undertake the consultations and preparatory work needed to initiate such negotiations, in accordance with each country's internal procedures, and to report back to the two Presidents as soon as practicable, but in any event before their next meeting in December.
The Presidents agreed that the greatest possible mutual benefit would derive from an agreement that entails the gradual and comprehensive elimination of trade barriers between the two countries, including: the full, phased elimination of import tariffs; the elimination or fullest possible reduction of non-tariff trade barriers, such as import quotas, licenses and technical barriers to trade; the establishment of clear, binding protection for intellectual property rights; fair and expeditious dispute settlement procedures; and means to improve and expand the flow of goods, services, and investment between the United States and Mexico.
The Presidents reaffirmed their commitment to the multilateral trading system and the General Agreement on Tariffs and Trade. They agreed that a successful conclusion of the Uruguay Round of multilateral trade negotiations by December is their highest priority, since this would yield the greatest benefit to both countries. They pledged to work toward that end. They also concluded that bilateral efforts to expand trade and investment opportunities can and should complement the trade liberalization achieved in the Uruguay Round.
The Presidents agreed that they would stay in close personal touch on this issue and review progress during President Bush's visit to Mexico in December 1990.
George Bush, Mexico-United States Joint Statement on Negotiation of a Free Trade Agreement Online by Gerhard Peters and John T. Woolley, The American Presidency Project https://www.presidency.ucsb.edu/node/264136