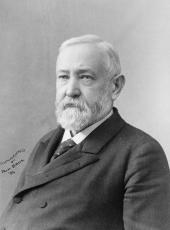 Message to the Senate Returning Without Approval a Bill for the Relief of the Administratrix of the Estate of George W. Lawrence
To the Senate:
I return herewith without my approval the bill (S. 3270) "for the relief of the administratrix of the estate of George W. Lawrence."
If I rightly construe this bill, it authorizes the Court of Claims to give judgment in favor of the contractor with the United States for the construction of the vessels named ( Agawam and Pontoosuc ) for the difference between the contract price and the actual cost to the contractor of building the vessels, subject only to the condition that nothing shall be allowed for any advance in the price of labor or material unless such advance occurred during the prolonged term for completing the work rendered necessary by delay resulting from the action of the Government. The bill is somewhat obscure, but I have, I think, correctly stated the legal effect of it.
Undoubtedly in contracts made for army and navy supplies and construction during the early days of the war there was not infrequently loss to the contractor by reason of the advance in the cost of labor resulting from the withdrawal of so large a body of men for service in the field and the indirect result of this upon the cost of material; but I can not believe that it is the purpose of Congress to reopen such contracts at this late day and to pay to the contractors the cost of the work or material which they stipulated to do or deliver at fixed prices. In the matter of another vessel constructed by this same claimant and in the case of one other similar claim I approved bills at the last session, but they carefully limited any finding by the Court of Claims to such losses as necessarily resulted from the interference by the Government with the progress of the work, thus creating delays and enhanced cost.
In those cases the Government only undertook to make good losses resulting directly and unavoidably from its own acts. If the principle which seems to me to be embodied in the bill under consideration is adopted, I do not see how the Congress can refuse in all cases of all sorts of contracts to make good the losses resulting from appreciation in the cost of labor and material. The expenditure that such a policy would entail is incalculable, and the policy itself is, in my judgment, indefensible.
The bill at the last session for the relief of this claimant in the case of another vessel constructed by him was, as I have said, carefully put upon the lines I have indicated, and if this claim could have been maintained upon those lines I assume that the bill would have been similar in its provisions.
BENJ. HARRISON
APP Note: Title devised by Gerhard Peters
Benjamin Harrison, Message to the Senate Returning Without Approval a Bill for the Relief of the Administratrix of the Estate of George W. Lawrence Online by Gerhard Peters and John T. Woolley, The American Presidency Project https://www.presidency.ucsb.edu/node/205572