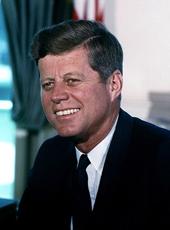 Message to the People of Greece on the 15th Anniversary of the Truman Doctrine.
WE OBSERVE today the fifteenth anniversary of President Truman's historic announcement of the purpose of the United States to help the Greek people defend their freedom. This announcement, with the support of the Congress and the American people, was translated into action. And that action followed on a great tradition of ideals common to Greeks and Americans.
We Americans do not forget that it was because of the threat to Greece that the particularly close relationship marking our present affairs began. The danger to Greece was overcome, primarily because of the national determination of the Greek people to restore their freedom and democracy given them by their ancient heritage.
Today, we are joined together in an effort to strengthen the cultural and spiritual ties we share and for our part we pledge our loyalty to our faithful and gallant Greek friends. Together we have accomplished much and, united in purpose, there is little we cannot do in the future. We assure the Greek people of our continued support against the dangers which confront us both, as well as our goods and deeds to help in the quest for progress. We are ever mindful of the vital role which Greece has played and continues to perform in the NATO defensive shield. Believing that the historical bonds of friendship which have united our nations have been strengthened by President Truman's decisive action, we are confident that these ties will grow ever stronger.
JOHN F. KENNEDY
John F. Kennedy, Message to the People of Greece on the 15th Anniversary of the Truman Doctrine. Online by Gerhard Peters and John T. Woolley, The American Presidency Project https://www.presidency.ucsb.edu/node/236961