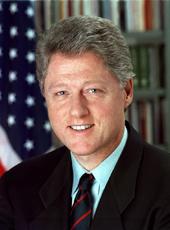 Message on the Observance of a New Millennium
Warm greetings to all Americans as we welcome a new century and a new millennium. This rare moment in our history is a time for hope and reflection, a time to recognize both the challenges and the opportunities that will face us in the coming years.
We have much to celebrate on this wonderful occasion and many reasons to be proud. Today we are enjoying the longest sustained period of economic growth in our nation's history, offering greater opportunities for every American. We can be rightfully proud, too, that the history of our democracy, with its widening circle of human freedom, still inspires the world and that America continues to serve as a leader in promoting peace and human rights across the globe.
Even as we celebrate our successes, however, we must also acknowledge that we face many challenges in the century ahead. While we are making great strides toward achieving full equality and justice for all Americans, we must ensure that in the coming century all our people live in One America—an America where we are not separated from one another by prejudice, by economic injustice, or by a digital divide.
We must have the vision to use new technology to improve our schools and stir the creativity of our young people; and we must ensure that every school and every child has access to the treasury of electronic resources that lies just beyond our keyboards and computer screens. We must continue our efforts to find cures for the diseases that still afflict us and that ravage many parts of the developing world. And we must put new resources at the disposal of our artists, scholars, and scientists to help them make new discoveries, preserve our historic legacy, and light tomorrow with the fire of their imaginations.
The theme for our national millennial celebration is "Honor the Past—Imagine the Future." By resolving at this moment to make a lasting difference in the lives of others, both in our communities and around the world, we will keep faith with our great past and ensure that America's future will reflect our fundamental ideals of freedom and opportunity for all.
Best wishes for an unforgettable celebration.
BILL CLINTON
William J. Clinton, Message on the Observance of a New Millennium Online by Gerhard Peters and John T. Woolley, The American Presidency Project https://www.presidency.ucsb.edu/node/228682