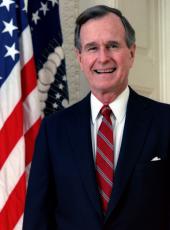 Message on the Observance of Labor Day
Today, we pause as a Nation to salute America's working men and women. From Honolulu to Harrodsburg, from Spokane to Colebrook, millions of us are observing a uniquely American holiday by taking a well-earned respite from our daily labors.
We rest on Labor Day in order to reflect upon all our Nation owes to its workers, the "doers of deeds," whose noble dreams and diligent efforts have shaped our homes, towns, and schools -- indeed, our way of life. As a Nation, we trace our roots to the brave and hardy individuals who cleared the timber, sowed the fields, and laid the foundations of great cities -- people for whom freedom meant nothing less than the opportunity to build a better world. Labor Day is a time to recall that heritage of accomplishment, as well as the deeper meaning and dignity that work holds for each of us.
Today, we also give thanks -- not only for the American worker but also for the strength of our Nation's economy. A job is more than a source of income; it is a source of pride and a source of self-respect. In just seven years, the engines of economic growth have created more than 20 million new jobs, and today more Americans are at work -- both in absolute numbers and as a percentage of the population -- than ever before in our recorded economic history.
We rejoice in this record economic expansion, but we can and should do more to sustain it. We must safeguard the gains made by working families and improve worker training and education so that all Americans might share fully in our nation's prosperity.
We give thanks today, too, for the rights and freedoms our system of government ensures: freedom from discrimination in employment because of race, sex, religion, national origin or disability; freedom from health and safety hazards in the workplace; and the right to join a labor union and to engage in collective bargaining.
Looking ahead, we foresee a very competitive global economy and a landscape transformed by technology. Nevertheless, we can depend on America's working men and women to meet such challenges. Like generations of hardworking Americans before them, they will have the tools that freedom makes available: respect for individual initiative, incentives for private enterprise, a spirit of cooperation, and the confidence that says "It can be done."
On this 95th Labor Day, we Americans are both grateful to and proud of our Nation's workers.
George Bush
George Bush, Message on the Observance of Labor Day Online by Gerhard Peters and John T. Woolley, The American Presidency Project https://www.presidency.ucsb.edu/node/263681