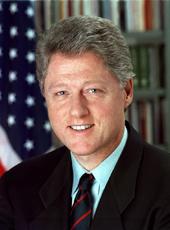 Message on the Observance of Labor Day, 1995
Each year at this time we pause to reflect on the value of labor and the accomplishments of the American worker. This country's success depends on the efforts of its citizens to open the door to a better future. Work is the engine that drives our economy forward, moves struggling families upward into the middle class, and creates opportunities for our children. We must continually strive to create more opportunity for work for those who are willing to take the responsibility to make better lives for themselves and their families. Our labors ensure that the blessings of life, liberty, and the pursuit of happiness will benefit generations to come.
Let us give thanks to those who came before us and who strived to improve working conditions and create fair labor laws. They risked their livelihoods and often their very lives to ensure that children could go to school instead of to work in mines and factories, that laborers could work without risking injury, and that Americans who toiled throughout the week would be rewarded with a decent living and could spend more time raising their families. These reformers brought dignity to the workplace and integrity to our society.
Today, we recognize that management and labor face common challenges and a shared destiny in the global economy. We must continue our efforts to create further job growth and new opportunities, enabling more of our citizens to realize the American Dream. As we celebrate Labor Day, we can find strength and renewed inspiration in the Dream—the idea that we can be good workers as well as good parents and that, through our individual efforts, we can build better lives for our children.
Best wishes to all for a memorable and meaningful holiday.
BILL CLINTON
William J. Clinton, Message on the Observance of Labor Day, 1995 Online by Gerhard Peters and John T. Woolley, The American Presidency Project https://www.presidency.ucsb.edu/node/221534