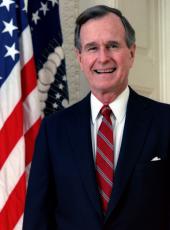 Message on the Observance of Labor Day, 1990
This year, we celebrate Labor Day at a time of both change and challenge for the United States and its workers. However, trial and change are nothing new to America or to the working men and women who have done so much to make this Nation a source of hope and inspiration for people throughout the world.
When the Industrial Revolution transformed the United States from an agrarian society into an industrialized power, millions of Americans moved from the farm to the factory and helped to forge the most productive economy the world has ever known. When World War II threatened the lives and liberty of millions of people, American workers converted their assembly lines into a pillar of our national defense, helping to make the United States a strong and effective guardian of freedom and human rights. More recently, when we attempted to conquer Space, our highly skilled work force built machines that have not only enabled us to travel safely to the Moon but also allowed us to send unmanned missions far beyond Earth's orbit. Dauntless and determined, American workers have risen to every challenge and opportunity to come before us.
Today, our economic strength and our competitive instincts are also being tested in a swiftly changing global marketplace, one that demands flexibility and rewards technological excellence. We must continue to emphasize education. We must continue to provide our work force with the training and tools needed for success in a highly competitive global economy. I am confident that America's working men and women will respond as they always have -- with courage, ingenuity, and the will to succeed.
On this Labor Day, we take special pride in the rights and opportunities that our system of government and innate sense of fairness ensure all American workers. As long as we cherish these rights and opportunities that are uniquely ours, this Nation will continue to be blessed with prosperity and progress.
At a time when our commitment to freedom and justice and our resolve to defend these cherished principles are being tested in the Middle East, let us remember that keeping the United States free, strong, and prosperous is the responsibility of all Americans -- and it is a job that is never finished. As we look to the future, we can take great confidence in the capabilities and the indomitable spirit of the American worker.
George Bush
George Bush, Message on the Observance of Labor Day, 1990 Online by Gerhard Peters and John T. Woolley, The American Presidency Project https://www.presidency.ucsb.edu/node/264245