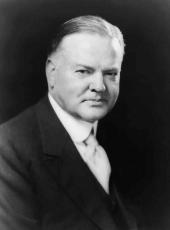 Message on the Launching of the SS Santa Rosa.
I AM GLAD to extend congratulations to the Federal Shipbuilding and Dry Dock Company, as builders, and to The Grace Line (Panama Mail Service), as owners, upon the launching of the SS Santa Rosa. The addition of this vessel and the three sister ships which will follow her into the carrying trade between the United States and Central and South America is an augury of closer communication and intercourse with our neighbors to the south. It also invites attention to the far-reaching benefits of the constructive legislation contained in the Merchant Marine Act of 1928. With the aid provided by mail contracts and construction loans, authorized by this act, orders have been placed for 45 new vessels of 500,000 gross tons and for the reconditioning of 19 vessels of 160,000 gross tons.
The resultant revival of shipbuilding industry has provided employment not only at seaboard shipyards but throughout the country where are produced and manufactured a large part of the materials and equipment entering into the finished vessels.
The constant volume of new construction has made possible a notable advance in the shipbuilding art. Shipowners, shipbuilders, marine architects and engineers find in the merchant shipbuilding program now being carried out, opportunity to attain the most effective combination of speed, fuel economy, carrying capacity, and superior accommodation for the comfort, convenience, and safety of passengers.
The efforts put forth in the rehabilitation of the American merchant marine have proved beneficial to the country at large. During the past 2 years, as compared with the prewar decade, the proportion of our foreign trade carried by ships under the American flag has substantially increased. It has notably grown in trades where no American flag services previously were provided.
At no time since the glorious American clipper ship era has the Nation displayed such a keen interest in its ship activities. The determination of the American people to possess a first-class merchant marine has resulted in the establishment of a network of regular and dependable ocean service to all the principal ports of the world where our flag is again a familiar sight--a symbol of friendship and good will in the development and expansion of international trade.
With the return of more normal trade conditions, American businessmen will find it possible to ship and to travel with unprecedented speed and frequency, under the American flag, to all the important markets of the world.
Note: Postmaster General Walter F. Brown read the message at the ship's launching in Kearny, N.J. At the conclusion of the ceremony the President, at his desk in the White House, pressed an electric button and sent the ship down the ways.
Herbert Hoover, Message on the Launching of the SS Santa Rosa. Online by Gerhard Peters and John T. Woolley, The American Presidency Project https://www.presidency.ucsb.edu/node/208589