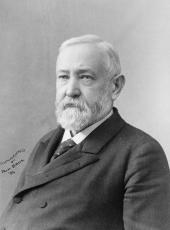 Message to the House of Representatives Returning Without Approval a Bill to Provide for the Purchase of a Site and the Erection of a Public Building at Tuscaloosa, Alabama
To the House of Representatives:
I return without my approval the bill (H. R. 7175) to provide for the purchase of a site and the erection of a public building thereon at Tuscaloosa, in the State of Alabama.
Judged by its postal revenues and by the force employed in the office, the post-office at Tuscaloosa is not an important one. It has one clerk, at a salary of $450, and no carriers. The report of the Postmasters General shows that the gross receipts for the year 1888 were $6,379 and the net revenue less than $4,000. The annual receipts have only increased about $3,000 in ten years. The rent now paid for a building affording 2,200 square feet of floor space is $275.
A general proposition to erect public buildings at this scale of expense in cities of the size of Tuscaloosa would not, I am sure, receive the sanction of Congress. It would involve the expenditure for buildings of ten times the present net revenues of such offices, and in the case under consideration would involve an increased cost for fuel, lights, and care greater than the rent now paid for the use of a room of ample size. I would not insist that it must always be shown that a proposed public building would yield an interest upon the investment, but in the present uncertain state of the public revenues and expenditures, resulting from pending and probable legislation, there is, in my opinion, an absolute necessity that expenditures for public buildings should be limited to cases where the public needs are very evident and very imperative. It is clear that this is not such a case.
BENJ. HARRISON
APP Note: Title devised by Gerhard Peters
Benjamin Harrison, Message to the House of Representatives Returning Without Approval a Bill to Provide for the Purchase of a Site and the Erection of a Public Building at Tuscaloosa, Alabama Online by Gerhard Peters and John T. Woolley, The American Presidency Project https://www.presidency.ucsb.edu/node/206189