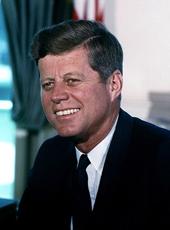 Message to the Government and People of Tanganyika on the Occasion of Their Independence.
ON BEHALF of the people of the United States of America, I extend the heartiest congratulations to the government and people of Tanganyika on the occasion of their independence.
Tanganyika's leaders, above all Prime Minister Julius Nyerere, and its people have brought their land to Freedom and equality among nations in a manner that has won the admiration of all Americans. For Americans also cherish individual liberty and national independence, and they share with Tanganyikans the knowledge that these goals are achieved and maintained only at the cost of unremitting labor and sacrifice.
Americans also share with the people of Tanganyika a profound respect for the principles of the United Nations Charter. Tanganyika has passed to independence through a period of United Nations trusteeship under British administration. It is gratifying that this period ends with continuing cooperation between these two sovereign friends of the United States. Gratifying also is this new nation's example in the exercise of human rights in which Tanganyikans of different racial origins band as one to the task of economic and social progress. This new nation brings to world councils a welcome sense of responsibility and a staunch independence.
The people of the United States of America shall work to multiply and strengthen bonds of friendship with the government and people of Tanganyika. We look forward to working together with Tanganyikans in the cause of freedom, dignity and peace.
Note: The message was delivered to Prime Minister Julius Nyerere at Dar-cs-Salaam on December 9 by Franklin D. Roosevelt, Jr., the President's personal representative at the Tanganyika independence celebration.
The message was released at Palm Beach, Fla.
John F. Kennedy, Message to the Government and People of Tanganyika on the Occasion of Their Independence. Online by Gerhard Peters and John T. Woolley, The American Presidency Project https://www.presidency.ucsb.edu/node/235763