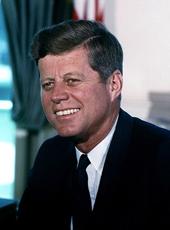 Message to the Congress Transmitting the 15th Annual Report on U.S. Participation in the United Nations.
To the Congress of the United States:
Pursuant to the United Nations Participation Act, I transmit herewith the fifteenth annual report, covering United States participation in the United Nations during the year 1960.
These activities took place during the tenure of the previous Administration. But United States support of the United Nations has never been and must never become a partisan matter. The aims of the United Nations--as expressed in the Charter--are comparable to the aims of the United States as expressed in the Constitution. Both documents affirm ideals and principles which transcend partisanship.
When all nations adopt as their own-and conduct their affairs in accord with--the objectives of the United Nations Charter, our hopes and expectations for the world organization will be fulfilled.
Until then, the United Nations must serve as a forum for parliamentary diplomacy in which our nation, in concert with others, can sustain these hopes and expectations. In a dangerous and disorderly world, the United States cannot conduct its foreign policy exclusively through the United Nations. We must--and we do--pursue national aims also through direct diplomacy and negotiations with individual countries and Within associations more limited in size and purpose than the United Nations. While doing so, we can continue to demonstrate day by day in the United Nations that our objectives in the world are in broad harmony with those of the great majority of other nations.
This report and the record of fifteen previous years prove that the United Nations now makes a major contribution to the maintenance of peace, the welcoming of new nations, the economic and social growth of large areas of the world, the validation of a civilized view of human rights, and the endless adjustments, accommodations and agreements that are the daily business of a world community.
The degree to which members of the United Nations have adopted as their own the objectives of the Charter can be assessed. Each national delegation, in the policies it pursues and the votes it casts, exposes to all its peaceful or aggressive intentions--its candor or its cynicism--its hopes or its fears-its maturity or its immaturity--its capacity for leadership or its weakness in action, and finally, the worth of its word. In the forum of the United Nations, each nation is put to the test; and each reveals its contribution-for good or evil--to human hopes and human expectations.
It is my firm purpose to see to it that in the United Nations, as elsewhere, the United States measures up to the principles of the Charter.
JOHN F. KENNEDY
Note: The report is printed in House Document 202 (87th Cong., 2d sess.).
John F. Kennedy, Message to the Congress Transmitting the 15th Annual Report on U.S. Participation in the United Nations. Online by Gerhard Peters and John T. Woolley, The American Presidency Project https://www.presidency.ucsb.edu/node/237008