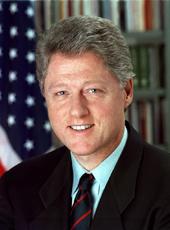 Message to the Congress Transmitting a Report on Federal Advisory Committees
To the Congress of the United States:
As provided by the Federal Advisory Committee Act (FACA), as amended (Public Law 92-463; 5 U.S.C. App. 2, 6(c)), I am submitting the Twenty-sixth Annual Report on Federal Advisory Committees, covering fiscal year 1997.
Consistent with my commitment to create a more responsive government, the executive branch continues to implement my policy of maintaining the number of advisory committees within the ceiling of 534 required by Executive Order 12838 of February 10, 1993. As a result, the number of discretionary advisory committees (established under general congressional authorizations) was held to 467, or 42 percent fewer than those 801 committees in existence at the beginning of my Administration.
Through the advisory committee planning process required by Executive Order 12838, the total number of advisory committees specifically mandated by statute has declined. The 391 such groups supported at the end of fiscal year 1997 represents a 4 percent decrease over the 407 in existence at the end of fiscal year 1996. Compared to the 439 advisory committees mandated by statute at the beginning of my Administration, the net total for fiscal year 1997 reflects an 11 percent decrease since 1993.
Furthermore, my Administration will assure that the total estimated costs to fund these groups in fiscal year 1998, or $43.8 million, are dedicated to support the highest priority public involvement efforts. We will continue to work with the Congress to assure that all advisory committees that are required by statute are regularly reviewed through the congressional reauthorization process and that any such new committees proposed through legislation are closely linked to national interests.
Combined savings achieved through actions taken by the executive branch to eliminate unneeded advisory committees during fiscal year 1997 were $2.7 million, including $545,000 saved through the termination of five advisory committees established under Presidential authority.
During fiscal year 1997, my Administration successfully worked with the Congress to clarify further the applicability of FACA to committees sponsored by the National Academy of Sciences (NAS) and the National Academy of Public Administration (NAPA). This initiative resulted in the enactment of the Federal Advisory Committee Act Amendments of 1997 (Public Law 105-153), which I signed into law on December 17, 1997. The Act provides for new and important means for the public and other interested stakeholders to participate in activities undertaken by committees established by the Academies in support of executive branch decisionmaking processes.
As FACA enters its second quarter-century during fiscal year 1998, it is appropriate for both the Congress and my Administration to continue examining opportunities for strengthening the Act's role in encouraging and promoting public participation. Accordingly, I am asking the Administrator of General Services to prepare a legislative proposal for my consideration that addresses an overall policy framework for leveraging the public's role in Federal decisionmaking through a wide variety of mechanisms, including advisory committees.
By jointly pursuing this goal, we can fortify what has been a uniquely American approach toward collaboration. As so aptly noted by Alexis de Tocqueville in Democracy in America (1835), "In democratic countries knowledge of how to combine is the mother of all other forms of knowledge; on its progress depends that of all the others." This observation strongly resonates at this moment in our history as we seek to combine policy opportunities with advances in collaboration made possible by new technologies, and an increased desire of the Nation's citizens to make meaningful contributions to their individual communities and their country.
WILLIAM J. CLINTON
The White House, July 14, 1998.
William J. Clinton, Message to the Congress Transmitting a Report on Federal Advisory Committees Online by Gerhard Peters and John T. Woolley, The American Presidency Project https://www.presidency.ucsb.edu/node/226132