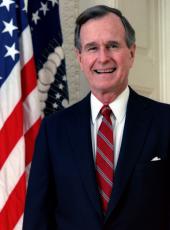 Message to the Congress Transmitting Proposed Legislation on Educational Excellence
To the Congress of the United States:
I am pleased to transmit today for your immediate consideration and enactment the "Educational Excellence Act of 1989," a bill to provide incentives to attain a better-educated America. I believe that greater educational achievement promotes sustained economic growth, enhances the Nation's competitive position in world markets, increases productivity, and leads to higher incomes for everyone. The Nation must invest in its young people, giving them the knowledge, skills, and values to live productive lives. The "Educational Excellence Act of 1989" would move us toward this goal.
The initiatives included in this bill embody four principles central to my Administration's policies on education and essential for further education reform. These principles are:
1) Recognition of excellence. Excellence and achievement in education should be recognized and rewarded.
2) Addressing need. Federal dollars should be targeted to help those most in need.
3) Flexibility and choice. Greater flexibility and choice in education -- both for parents in selecting schools for their children and local school systems' choice of teachers and principals -- are essential.
4) Accountability. I support educational accountability, and toward this end, I am committed to measuring and rewarding progress toward quality education.
This legislation builds on the accomplishments of the last Congress, which enacted into law the Augustus F. Hawkins-Robert T. Stafford Elementary and Secondary School Improvement Amendments of 1988. That law took significant steps toward improving elementary and secondary education by improving program accountability, reauthorizing the magnet school program and expanding parental choice, providing greater flexibility to local school districts in the implementation of bilingual education programs, enhancing parental involvement in programs for disadvantaged children, and stimulating education innovation and reform. My proposals have distinct differences from current law, but complement in numerous ways the important work of the 100th Congress in pursuing educational excellence.
The Educational Excellence Act of 1989 includes seven specific legislative initiatives aimed at fulfilling these important principles:
(1) The Presidential Merit Schools program would reward public and private elementary and secondary schools that have made substantial progress in raising students' educational achievement, creating a safe and drug-free school environment, and reducing the dropout rate. This program would provide a powerful incentive for all schools to improve their educational performance.
(2) A new Magnet Schools of Excellence program would support the establishment, expansion, or enhancement of magnet schools, without regard to the presence of desegregation plans in applicant districts. Magnet schools have been highly successful at increasing parental choice and improving educational quality.
(3) The Alternative Certification of Teachers and Principals program would assist States interested in broadening the pool of talent from which to recruit teachers and principals. Funds would assist States to develop and implement, or expand and improve, flexible certification systems, so that talented professionals who have demonstrated their subject area competence or leadership qualities in fields outside education might be drawn into education.
(4) President's Awards for Excellence in Education would be given to teachers in every State who meet the highest standards of excellence. Each award would be for $5,000.
(5) Drug-Free Schools Urban Emergency Grants would provide special assistance to urban school districts that are disproportionately affected by drug trafficking and abuse. These funds would be used for a comprehensive range of services appropriate to the needs of individual communities.
(6) A National Science Scholars program would provide scholarships to high school seniors who have excelled in the sciences and mathematics. These scholarships, of up to $10,000 a year, would recognize recipients' academic achievement and encourage them to continue their education in science, mathematics, and engineering. The President would select recipients after considering recommendations made by Senators and Members of the House of Representatives.
(7) I am proposing to provide additional endowment matching grants for Historically Black Colleges and Universities, institutions that occupy a unique position and have a major responsibility in the structure of American higher education.
I urge the Congress to take prompt and favorable action on this legislation. Taken together, these seven initiatives, for which I have proposed adding $422.6 million in the 1990 budget, would help us advance toward the goal of a better-educated Nation.
In addition to these initiatives, I have proposed a budget amendment for $13 million in new funds for experiments and data collection in support of education reform. I am also asking the Congress to fund fully the authorization in the Stewart McKinney Homeless Assistance Act. This includes $2.5 million to fund for the first time the Exemplary Grants program and $2.7 million in additional funding for literacy programs for homeless adults.
George Bush
The White House,
April 5, 1989.
George Bush, Message to the Congress Transmitting Proposed Legislation on Educational Excellence Online by Gerhard Peters and John T. Woolley, The American Presidency Project https://www.presidency.ucsb.edu/node/248054