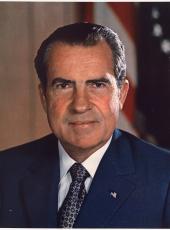 Message to the Congress Transmitting Annual Report on Aeronautics and Space Activities.
To the Congress of the United States:
I am pleased to transmit this report on our Nation's progress in aeronautics and space activities during 1973.
This year has been particularly significant in that many past efforts to apply the benefits of space technology and information to the solution of problems on Earth are now coming to fruition. Experimental data from the manned Skylab station and the unmanned Earth Resources Technology Satellite are already being used operationally for resource discovery and management, environmental information, land use planning, and other applications.
Communications satellites have become one of the principal methods of international communication and are an important factor in meeting national defense needs. They will also add another dimension to our domestic telecommunications systems when the first of four authorized domestic satellite systems is launched in 1974. Similarly, weather satellites are now our chief source of synoptic global and local weather data. Efforts are continuing to develop capabilities for worldwide two week weather forecasts by the beginning of the next decade. The use of satellites for efficient and safe routing of civilian and military ships and airplanes is being studied. Demonstration programs are now underway aimed at improving our health and education delivery systems using space-age techniques.
Skylab has given us new information on the energy characteristics of our sun. This knowledge should help our understanding of thermo-nuclear processes and contribute to the future development of new energy sources. Knowledge of these processes may also help us understand the sun's effect on our planet.
Skylab has proven that man can effectively work and live in space for extended periods of time. Experiments in space manufacturing may also lead to new and improved materials for use on Earth.
Development of the reusable Space Shuttle progressed during 1973. The Shuttle will reduce the costs of space activity by providing an efficient, economical means of launching, servicing and retrieving space payloads. Recognizing the Shuttle's importance, the European Space Conference has agreed to construct a space laboratory--Spacelab--for use with the Shuttle.
Notable progress has also been made with the Soviet Union in preparing the Apollo-Soyuz Test Project scheduled for 1975. We are continuing to cooperate with other nations in space activities and sharing of scientific information. These efforts contribute to global peace and prosperity.
While we stress the use of current technology to solve current problems, we are employing unmanned spacecraft to stimulate further advances in technology and to obtain knowledge that can aid us in solving future problems. Pioneer 10 gave us our first close-up glimpse of Jupiter and transmitted data which will enhance our knowledge of Jupiter, the solar system, and ultimately our own planet. The spacecraft took almost two years to make the trip. It has traveled over 94,000 miles per hour faster than any other man-made object--and will become the first manmade object to leave our solar system and enter the distant reaches of space.
Advances in military aircraft technology contribute to our ability to defend our Nation. In civil aeronautics, the principal research efforts have been aimed at reducing congestion and producing quieter, safer, more economical and efficient aircraft which will conserve energy and have a minimum impact on our environment.
It is with considerable satisfaction that I submit this report of our ongoing efforts in space and aeronautics, efforts which help not only our own country but other nations and peoples as well. We are now beginning to harvest the benefits of our past hard work and investments, and we can anticipate new operational services based on aerospace technology to be made available for the public good in the years ahead on a routine basis.
RICHARD NIXON

The White House,

April 8, 1974.
Note: The President's message is printed in the report entitled "Aeronautics and Space Report of the President, 1973 Activities" (Government Printing Office, 131 pp. ).
Richard Nixon, Message to the Congress Transmitting Annual Report on Aeronautics and Space Activities. Online by Gerhard Peters and John T. Woolley, The American Presidency Project https://www.presidency.ucsb.edu/node/256350