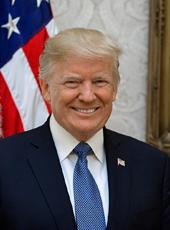 Message to the Congress on the Economic Report of the President
To the Congress of the United States:
For the past two years, my Administration has been focused on strengthening the United States economy to enable greater opportunity and prosperity for all Americans.During my first year in office, we began by building a foundation of pro-growth policies. We initiated sweeping regulatory reform—issuing 22 deregulatory actions for every new one added—and signed into law the Tax Cuts and Jobs Act, the biggest package of tax cuts and tax reform in our country's history. Consumer and business confidence skyrocketed as we reversed incentives that had driven away businesses, investment, and jobs for many years. With these cornerstones of a robust economy in place, we restored enthusiasm for doing business in America. This has achieved enormously positive results for American workers and families.
The United States economy has created 5.3 million jobs since I was elected to office. Wage growth continued in 2018, with the lowest-earning workers experiencing the strongest gains. By the fourth quarter of 2018, real disposable personal income per household was up more than $2,200 from the end of 2017. The national unemployment rate reached a nearly 50-year low of 3.7 percent in September 2018, hovering at or below 4 percent for 11 consecutive months—the longest streak in nearly five decades. Opportunity is expanding so fast that there are more job openings in our economy than there are current job seekers. These positions will be filled as more Americans join the labor force or rejoin it after years of discouragement and pessimism. In January 2019, more than 70 percent of workers entering employment were previously out of the labor force, and the labor force participation rate reached 63.2 percent—the highest since 2013. For the second consecutive year, economic growth has either matched or surpassed my Administration's forecast, and the economy has grown at a 3.1 percent rate over the last four quarters.
This progress is remarkable. It is a victory for all Americans now benefiting from a strengthened economy. But the greatest triumph of all is this: we have created an era of opportunity in which Americans left behind by previous Administrations are finally catching up and even getting ahead.
An Economic Agenda for the Success of Every American
An economic agenda that enables struggling Americans to succeed begins with the creation of opportunities. Years of misguided policies, however, diminished opportunity, disregarded the importance of American workers for our country's success, and turned millions of our hard-working citizens into collateral damage. On a massive scale, jobs were lost as unfair trade deals gutted American manufacturing and a backward tax code drove away businesses and investment. The American people suffered the consequences of past leaders' unalloyed aspirations for global trade; which enriched other nations and impoverished our working families, as we increasingly imported goods formerly made here by American workers. Those seeking hope from Washington received dismissive explanations. They were told that low growth and meager opportunity were the "new normal"—that nothing could be done to stop the damage. Meanwhile, economic hardship derailed families and communities: Hopelessness deepened, and drug abuse and other maladies spread.
Our country could not achieve its highest economic potential with a workforce hollowed out by the mistaken policies of the past—policies that treated our citizens as an afterthought, hurt our most vulnerable workers, and crippled our economy. Over the past two years, my Administration has implemented a pro-growth policy agenda that puts Americans first and creates conditions that enable all our citizens to succeed.
By strengthening the United States economy, we have empowered many groups that historically have had a harder time getting ahead. Unemployment among those without a high school degree is the lowest in nearly 30 years. In the past year, the unemployment rate among women fell to 3.3. percent, matching its lowest rate since 1953. Teenage unemployment reached its lowest rate in nearly 50 years. My Administration has presided over the lowest unemployment rates for people with disabilities on record. Poverty rates for both black Americans and Hispanic Americans reached record lows in 2017. Homelessness among veterans fell by 5.4 percent in the past year. The bottom 10 percent of earners are experiencing the highest wage growth on record, and we have lifted nearly 5 million Americans off food stamps since my election. Revitalized American manufacturing—something once thought impossible—has restored opportunities for American blue-collar workers. In the first two years of my Administration, we have created manufacturing jobs at six times the pace of the previous Administration's last two years, for a total of nearly half a million jobs. Blue-collar workers, on average, are on track to see almost $2,500 more in annual wages.
The success of America's workers is essential to the success of our country. We will continue to prioritize workforce development in the years ahead, and we will keep fighting on behalf of all Americans seeking opportunities to contribute. In establishing the National Council for the American Worker, my Administration is emphasizing the importance of results-driven job training and reskilling programs; we must equip our students and workers with competitive skills adapted to our rapidly changing economy. This initiative has already secured commitments from the private sector to invest in over 6.5 million retraining opportunities.
An economic agenda that lifts all Americans must also address the destructive effects that over-incarceration has on our families and our communities. With the enactment of the First Step Act of 2018, we have achieved a bipartisan victory for criminal justice reform. The First Step Act modifies sentencing for less serious crimes and prioritizes rehabilitation to enable former prisoners to reenter society as productive, law-abiding citizens. Well-designed prison programs that help bring families together and give reformed prisoners the tools to find work are crucial for reducing the costs of crime and our over-incarceration.
Finally, we remain committed to encouraging self-sufficiency and advocating for work as the best way to foster human dignity and escape poverty. In our strengthened economy, long-awaited job opportunities have become available to millions of Americans who are eager to support themselves. Although help must be accessible to those who are struggling, expanding work requirements can further reduce both poverty and dependency among those able to work. Over half of all nondisabled, working-age adults receiving food stamps are not working. By finding ways to put their talents to productive use, we would both enrich our society and help them live more fulfilling lives. My Administration values the capabilities of all Americans, and we will continue to implement a pro-growth, pro-opportunity agenda that puts self-sufficiency within reach.
Investing in Innovation and the Future of American Greatness
To maintain economic momentum and expand opportunity in our Nation, we will continue to champion American innovation and entrepreneurship. Smart deregulation and technological advances have unleashed American energy dominance, and made American energy the way of the future. The United States is now the world's single largest producer of crude oil and natural gas. Our strength in the energy sector has invigorated our economy, created jobs, and reduced our dependence on energy from countries that do not share our values.
The instinct to invent and create has driven America forward since its founding and has enabled our country to export ideas that have rapidly improved the world. To do right by our researchers and inventors, we must hold foreign nations to account for stealing our intellectual property and forcing technology transfers. To do right by American taxpayers and consumers, we must continue fighting for lower pharmaceutical drug prices and end global free-riding on Americans' transformative research. And to bolster growth, we must continue to unleash the power of possibility by revolutionizing our Nation's technological capabilities within the industries of the future, including artificial intelligence, advanced manufacturing, and 5G technology.
By reducing the costs and confines of oppressive, growth-killing regulation, we have improved the ability of American entrepreneurs to start and expand their businesses. Many aspiring entrepreneurs, however, live in areas of our country that are starved of the capital that entices business investment and creates jobs. The Investing in Opportunity Act, part of our historic tax reform law, is addressing this problem. It is using tax incentives to draw investment into Opportunity Zones, areas struggling with higher unemployment and poverty. These areas are experiencing increases in commercial real estate transactions, as investors seize on the potential for Opportunity Zones to reignite the American Dream for those who have been left behind.
Our dedication to investing in a brighter future must be paired with a commitment to fixing past mistakes. We have made significant strides to reverse the damage of trade policies that harmed our country for many years. We renegotiated the destructive North American Free Trade Agreement and reached a new agreement, the United States–Mexico–Canada Agreement. We also negotiated a revised United States–Korea Free Trade Agreement. At the time of this Report's publication, we are conducting negotiations with China, the European Union, and Japan. In addition, we intend to begin negotiations with the United Kingdom as soon as it leaves the European Union. With these historic achievements, we have begun an era of trade policy that finally puts the interests of the United States and our hard-working families first.
To improve the welfare of our Nation and its citizens, we are redoubling our efforts to fix an immigration system that has been broken for decades. The chaos at our Southern Border comes at an intolerable cost to American citizens, who deserve peaceful, prosperous communities. We cannot tolerate the crime, drug smuggling, illegal entry, and human trafficking enabled by a porous border. The current system that allows dangerous gang members into our society, strains public services, and rewards those who ignore our laws over those who respect our citizenship process is simply unsustainable for our Nation. We must have an orderly immigration system that honors United States citizenship as the unrivaled privilege we all know it to be.
As shown in the Report that follows, we are ushering in an era of renewed dedication to our citizens. It is my great honor to champion the American people and to make their success and well-being my top priority. This pro-growth, pro-opportunity agenda celebrates the irreplaceable value of America's working families and embraces the extraordinary possibilities for American ingenuity to improve the human condition. It is an economic agenda that lays the foundation for the future of American greatness.
DONALD J. TRUMP
The White House
March 2019
Donald J. Trump, Message to the Congress on the Economic Report of the President Online by Gerhard Peters and John T. Woolley, The American Presidency Project https://www.presidency.ucsb.edu/node/353767