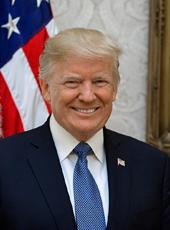 Message to the Congress on the Death of Former President George H.W. Bush
To the Congress of the United States:
By this Message, I officially inform you of the death of George Herbert Walker Bush, the forty-first President of the United States.
President George H.W. Bush led a life that exemplified what is truly great about America. As with so many of his generation, the Greatest Generation, President Bush worked selflessly throughout his long life to bring about a world of justice and lasting peace. With his passing, we mark one of the last pages of a defining chapter in American history.
Much of George H.W. Bush's life was shaped by global conflict. He began his adult life by volunteering for combat in the Pacific Theater of World War Two. Through his heroic efforts as an aviator in the United States Navy, the youngest in United States history at the time, President Bush flew 58 combat missions, helping to win a hard-fought but fragile peace. Shortly after the war, the Nation found itself confronted with new challenges, including a protracted Cold War and the threat of nuclear annihilation by the Soviet Union. Propelled by his sense of duty to his Nation, George H.W. Bush re-entered public service, first as a Member of Congress, and then as Ambassador to the United Nations, Chief of the United States Liaison Office in China, Director of Central Intelligence, Vice President, and President of the United States.
Resolute through war, President Bush was magnanimous in peace. As the Communist threat subsided, he stood down America's nuclear bombers from the alert posture they had maintained for so long and gently encouraged the development of democracy and free markets in the crumbling Soviet Union. Through these and other gestures of goodwill, President Bush helped to bring the Cold War to a victorious end and to transition the country into a period of sustained peace and prosperity.
During one of his many combat missions as a young man, then-Lieutenant Bush was forced to parachute from his airplane into the ocean below. Many years later, in celebration of a life of accomplishments in both war and peace, President Bush jumped from another aircraft—this time a helicopter—and parachuted safely onto the grounds of his home in Maine. Fearless, courageous, adventurous, and unyielding, through the highs and lows of the twentieth century and into the next millennium, President Bush served his Nation, creating an example that will inspire generations for decades to come.
DONALD J. TRUMP
The White House,
December 3, 2018.
Donald J. Trump, Message to the Congress on the Death of Former President George H.W. Bush Online by Gerhard Peters and John T. Woolley, The American Presidency Project https://www.presidency.ucsb.edu/node/333293