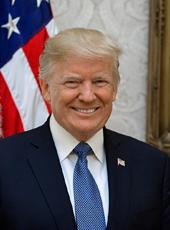 Message on the 55th Anniversary of the Civil Rights Act of 1964
On this day 55 years ago, President Lyndon B. Johnson signed into law the Civil Rights Act of 1964, outlawing discrimination based on race, religion, sex, or national origin. Today we celebrate this monumental legislation and recommit ourselves to the noble mission of advancing equality, justice, and freedom.
The United States was founded on the fundamental truth that all people are created equal and endowed by their Creator with the rights to life, liberty, and the pursuit of happiness. The passage of the Civil Rights Act of 1964 more than a half century ago helped further enshrine this into our law. As Dr. Martin Luther King, Jr., who advocated for the passage of the Act and who was present when President Johnson signed it into law, once said: "Injustice anywhere is a threat to justice everywhere." The Civil Rights Act of 1964 has helped to minimize that threat every day since its enactment.
As we commemorate this historic milestone, my administration continues to work to ensure that all Americans have an equal opportunity to pursue the American Dream. Thanks to our economic policies, unemployment rates among African Americans and other minorities have reached historic lows. We are also making significant strides in reforming our Nation's criminal justice system so that those who have served their time are given a second chance to become productive, contributing members of our society. Last year, I was proud to sign into law the First Step Act, which made our system fairer through sentencing reforms for nonviolent offenders and providing all inmates a chance at redemption through recidivism-reducing programming such as vocational training, education, mental health care, and mentorship.
On the 55th anniversary of the enactment of the Civil Rights Act of 1964, we vow, as one Nation under God, always to strive for a more just society. Together, united by the bonds of justice, we will ensure America remains a land of liberty, hope, and opportunity for generations to come.
Donald J. Trump, Message on the 55th Anniversary of the Civil Rights Act of 1964 Online by Gerhard Peters and John T. Woolley, The American Presidency Project https://www.presidency.ucsb.edu/node/333691