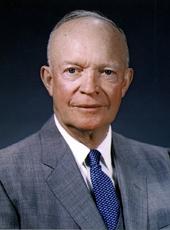 Message Recorded for Broadcast to Americans Overseas
My Fellow Americans:
One hundred eighty-three years ago a dramatic event took place in our country--the proclamation of our independence and the establishment of our Nation.
Today I speak to each of you--American citizens abroad--first, to convey the greetings of all of us at home on this special occasion; and second, to acknowledge a keen appreciation of your important role as our representatives to the rest of the world.
Approximately two and a half million of you are outside the United States today, all guests in foreign lands. Whether you are overseas in an official capacity, serving at one of our diplomatic missions or consular posts; or in uniform, helping to secure the common defense of freedom; or studying or teaching at a foreign school; or contributing knowledge to help improve the health or productivity of one of the world's newly developing lands; or working as a correspondent of our free press; or engaged in commerce; or traveling as a visitor to enhance your understanding of our neighbors on earth--you are, in foreign eyes, guests of those nations in which you reside. I trust that your hosts may ever consider you welcome representatives of the United States and of everything we cherish.
On this national holiday, I take this opportunity to talk to you directly about what you represent.
First of all, the significance of July fourth. This date annually commemorates and renews our dedication to the principles of freedom, of government elected by the people, of equal opportunity for all.
These are not static principles. What began in 1776 was a continuing, dynamic experiment. Let us look at the United States today, to see what we have accomplished, since 1776, in carrying out the American experiment. In these 183 years we have developed an industrialized society while maintaining our personal freedoms. Despite the predictions of Karl Marx, our economy has developed swiftly through unprecedented teamwork on the part of those who toil and those who invest and manage. During this development, the working man has obtained an increasingly larger share of the fruits of his labors. We live under the rule of law, which jealously guards our freedom from illegal restraint. It guarantees our freedom of information, our freedom of movement. I do not suggest that all of these achievements exist constantly or uniformly throughout our land. The goals for which America strives are not always easy of attainment.
But we have an abiding determination to reach those goals without sacrifice of principle, and to further the cause of freedom at home and abroad.
We have grown in the realization of interdependence among nations as well as among individuals.
We helped establish and steadfastly support the United Nations in applying the concept of collective security to preserve freedom and integrity.
We felt it our duty to extend help to those who need and desire it. In the forms of economic, scientific, technological, and defense assistance, we try to help other peoples realize their legitimate aspirations.
Our major goal is the achievement of a lasting peace with justice.
This, then, is what you represent abroad. You can be proud of the American experiment, dynamic, vital, constructive, hopeful. I ask you to tell that story. But let the facts speak for themselves. It is traditional with us not to impose ideas on other peoples. And in those countries engaged in social experiments of their own, let them know that we wish them well in their efforts toward the peaceful enhancement of the individual. Give our encouragement to all nations to solve their problems in their own way, in accordance with their own traditions--as we do ourselves. If my message to you on this Fourth of July could be put into one sentence, it would be this:
State the facts of freedom and trust in God, as we have ever done. Thus, we know that truth will triumph.
God bless you all.
Note: The message was broadcast over the Government's international radio network (Voice of America); highlights of the message were broadcast in other languages. In addition, tapes of the broadcast were sent to U.S. embassies for use in connection with Fourth of July ceremonies.
Dwight D. Eisenhower, Message Recorded for Broadcast to Americans Overseas Online by Gerhard Peters and John T. Woolley, The American Presidency Project https://www.presidency.ucsb.edu/node/235117