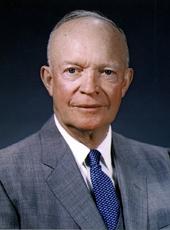 Message to President Heuss of Germany on the Anniversary of the Demonstration for Freedom in the Soviet Zone.
Dear Mr. President:
On this day which commemorates the spontaneous demand made three years ago for the freedom of the seventeen million German people of the Soviet Zone, I wish to reaffirm the steadfast conviction of my country that the unjust division of Germany will surely come to an end. The Government and people of the United States are deeply dedicated to the causes of liberty and peace. We know that so long as unity in freedom is withheld from the German people by those who seek to impose an alien and totalitarian system on a part of your nation there can be no permanent security in Europe. We know also that these views are shared by our partners in the North Atlantic Treaty.
The ending of the division of Germany is essential to the development of friendly and cooperative relations between the Western nations and the Soviet Union. The way is open insofar as the United States Government is concerned for the Soviet Government to prove that its professed interest in developing such relations is genuine. I am convinced that the Soviet Union will come to recognize that it is in its own interest to negotiate a settlement which respects the right to freedom of the German people and the interests of both East and West, and will join with us in finding a solution to the German problem.
This day you celebrate is I know a day of dedication. I send you my greetings and together with my fellow Americans I look forward to the time when all Germany will at last be unified and free.

Sincerely,
DWIGHT D. EISENHOWER
Note: On June 14, 1956, Chancellor Adenauer visited the President at Walter Reed Hospital, accompanied by Secretary Dulles. In their remarks, released by the White House, both expressed pleasure over the President's excellent progress following his operation. Secretary Dulles added, "We had a very good talk... The President... expressed his very great hope that action could be taken which would promote the liberation of the 17 million Germans that are now held under Soviet Communist rule and their re-unification with Germany. That was the substantive point which the President himself brought up and which was the principal topic of conversation outside of the expressions of sentiments as between the two men and the two countries."
Dwight D. Eisenhower, Message to President Heuss of Germany on the Anniversary of the Demonstration for Freedom in the Soviet Zone. Online by Gerhard Peters and John T. Woolley, The American Presidency Project https://www.presidency.ucsb.edu/node/232931