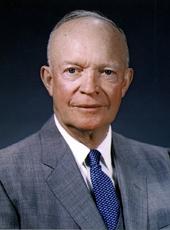 Message to Nikolai Bulganin, Chairman, Council of Ministers, U.S.S.R., Urging Withdrawal of Soviet Forces From Hungary
I have noted with profound distress the reports which have reached me today from Hungary.
The Declaration of the Soviet Government of October 30, 1956, which restated the policy of non-intervention in internal affairs of other states, was generally understood as promising the early withdrawal of Soviet forces from Hungary. Indeed, in that statement, the Soviet Union said that "it considered the further presence of Soviet Army units in Hungary can serve as a cause for an even greater deterioration of the situation." This pronouncement was regarded by the United States Government and myself as an act of high statesmanship. It was followed by the express request of the Hungarian Government for the withdrawal of Soviet forces.
Consequently, we have been inexpressibly shocked by the apparent reversal of this policy. It is especially shocking that this renewed application of force against the Hungarian Government and people took place while negotiations were going on between your representatives and those of the Hungarian Government for the withdrawal of Soviet forces.
As you know, the Security Council of the United Nations has been engaged in an emergency examination of this problem. As late as yesterday afternoon the Council was led to believe by your representative that the negotiations then in progress in Budapest were leading to agreement which would result in the withdrawal of Soviet forces from Hungary as requested by the government of that country. It was on that basis that the Security Council recessed its consideration of this matter.
I urge in the name of humanity and in the cause of peace that the Soviet Union take action to withdraw Soviet forces from Hungary immediately and to permit the Hungarian people to enjoy and exercise the human rights and fundamental freedoms affirmed for all peoples in the United Nations Charter.
The General Assembly of the United Nations is meeting in emergency session this afternoon in New York to consider this tragic situation. It is my hope that your representative will be in a position to announce at the Session today that the Soviet Union is preparing to withdraw its forces from that country and to allow the Hungarian people to enjoy the right to a government of their own choice.
DWIGHT D. EISENHOWER
Note: Released November 5, 1956. Dated November 4, 1956.
On releasing the text of this letter, the White House announced that the President had just received from Mr. Bulganin a letter which had been previously released to the press in Moscow. The White House announcement further states that the Bulganin letter "in an obvious attempt to divert world attention from the Hungarian tragedy--makes the unthinkable suggestion that the United States join with the Soviet Union in a bi-partite employment of their military forces to stop the fighting in Egypt." Mr. Bulganin's letter is published in the Department of State Bulletin (vol. 35, p. 796).
Dwight D. Eisenhower, Message to Nikolai Bulganin, Chairman, Council of Ministers, U.S.S.R., Urging Withdrawal of Soviet Forces From Hungary Online by Gerhard Peters and John T. Woolley, The American Presidency Project https://www.presidency.ucsb.edu/node/233839