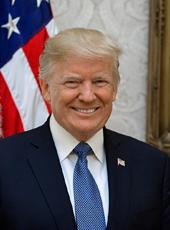 Message on National Women's Health Week
Since our Nation's founding, women have made immeasurable contributions to our country's history, success, and prosperity. During National Women's Health Week, we call attention to the health needs and conditions that are unique to our mothers, sisters, wives, daughters, and friends, and we recommit to improving the quality of care and resources available to women. By working together, we can help support all women and build a stronger, healthier America.
Over the past few months, women have played a major role in our Nation's health care response to the coronavirus pandemic, and we have tremendous appreciation for their work. Countless courageous women are serving on the frontlines as physicians, law enforcement officers, nurses, health assistants, health aides, technicians, and critical infrastructure workers. Many of these vital personnel are at a heightened risk of acquiring the coronavirus due to their exposure to infected patients and the public at large, and we will continue working to protect their health as they defend the American people.
Our Nation has made tremendous progress in advancing medical care and treatment for many diseases, but cancer still poses a tremendous health challenge to all Americans, particularly women. Early detection through regular screening tests can help identify these cancers when treatment is likely to work best, which substantially reduces the risk of death. Doctors recommend that, starting at age 50, most women have a mammogram every other year to screen for breast cancer. This screening test is critical in helping identify cancer before symptoms appear and can detect a tumor before it can be seen or felt by a physical examination alone. By raising awareness of practices such as these, we can help continue to reduce the number of women's lives lost to cancer.
Americans also continue to be affected by the ongoing opioid crisis. The rate of opioid overdoses over the past two decades has increased more quickly for women than it has for men, and women who are pregnant or postpartum often face barriers to accessing treatment and recovery services for substance use disorders. My administration remains dedicated to fighting the opioid crisis and leveraging a whole-of-Government approach to stop the abuse of opioids. For the first time in decades, drug overdose deaths have fallen from their peak levels. We are making real progress in saving lives, helping those struggling with addiction and reducing stigma. Together, we will continue building a society that values the dignity of every life and helps all Americans realize their full potential.
Additionally, we must continue working to assist women with disabilities. According to the Centers for Disease Control and Prevention, one in four women have a disability in America. It is critical that women with disabilities have access to health care. These women need the same general health care as women without disabilities, and, they may also require access to specialty care and other services to address their particular health or functional needs.
We also want to encourage all Americans who are facing mental health issues, including depression. Studies indicate that women are twice as likely as men to be diagnosed with depression. As we have made tremendous progress in lowering the mortality rate among women for cancer, we must also work to improve their access to mental health resources and treatment and remove the stigmas associated with mental health issues. If you or someone you know is suffering from depression or any mental illness, please know that you are not alone and that resources are available. Today and always, we recognize the importance of women in our lives and resolve to do all we can as a nation to promote women's health. During this National Women's Health Week, we commit to using every resource at our disposal to invest in their well-being, which will help strengthen our country and build a better future for all Americans.
Donald J. Trump, Message on National Women's Health Week Online by Gerhard Peters and John T. Woolley, The American Presidency Project https://www.presidency.ucsb.edu/node/341949