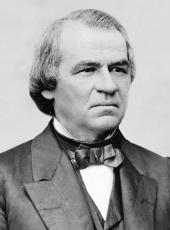 Message to Governor Benjamin G. Humphreys of Mississippi
B.G. HUMPHREYS, Governor elect, Jackson, Miss,:
The troops will be withdrawn from Mississippi when, in the opinion of the government, peace and order and the civil authority have been restored and can be maintained without them. Every step will be taken while they are there to enforce strict discipline and subordination to the civil authority. There can be no other or greater assurance given than has heretofore been on the part of the President or Government. There is no concession required on the part of the people of Mississippi or the legislature, other than a loyal compliance with the laws and Constitution of the United States, and the adoption of such measures giving protection to all freedmen or freemen in person and property, without regard to color, as will entitle them to resume all their constitutional relations in the Federal Union.
The people of Mississippi may feel well assured that there is no disposition, arbitrarily, on the part of the Government to dictate what action should be had; but, on the contrary, to simply and kindly advise a policy that is believed will result in restoring all the relations which should exist between the States comprising the Federal Union.
It is hoped that they will appreciate and feel the suggestions herein made, for they are offered in that spirit which should pervade the bosom of all those who desire peace and harmony and a thorough restoration of the Union.
There must be confidence between the Government and the States, and while the Government confides in the people the people must have faith in the Government. This must be mutual and reciprocal, or all that has been done will be thrown away.
ANDREW JOHNSON,
President of the United States.
Source: John Savage, "Life and Public Services of Andrew Johnson".
Andrew Johnson, Message to Governor Benjamin G. Humphreys of Mississippi Online by Gerhard Peters and John T. Woolley, The American Presidency Project https://www.presidency.ucsb.edu/node/355909