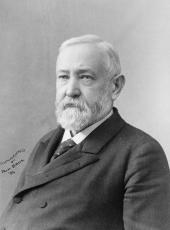 Message to Congress Transmitting a Report of the International American Conference Recommending a Survey of a Route for an Intercontinental Railroad
To the Senate and House of Representatives:
I transmit herewith a report of the International American Conference, recently in session at this capital, recommending the survey of a route for an intercontinental line of railroad to connect the systems of North America with those of the southern continent, and to be conducted under the direction of a board of commissioners representing the several American Republics.
Public attention has chiefly been attracted to the subject of improved water communication between the ports of the United States and those of Central and South America. The creation of new and improved steamship lines undoubtedly furnishes the readiest means of developing an increased trade with the Latin-American nations. But it should not be forgotten that it is possible to travel by land from Washington to the southernmost capital of South America, and that the opening of railroad communication with these friendly States will give to them and to us facilities for intercourse and the exchanges of trade that are of special value.
The work contemplated is vast, but entirely practicable. It will be interesting to all, and perhaps surprising to most of us, to notice how much has already been done in the way of railroad construction in Mexico and South America that can be utilized as part of an intercontinental line.
I do not hesitate to recommend that Congress make the very moderate appropriation for surveys suggested by the conference and authorize the appointment of commissioners and the detail of engineer officers to direct and conduct the necessary preliminary surveys.
BENJ. HARRISON
Benjamin Harrison, Message to Congress Transmitting a Report of the International American Conference Recommending a Survey of a Route for an Intercontinental Railroad Online by Gerhard Peters and John T. Woolley, The American Presidency Project https://www.presidency.ucsb.edu/node/205861