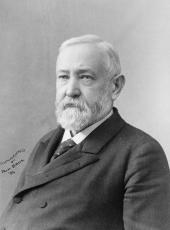 Message to Congress Transmitting an Agreement Between the Cherokee Commission and the Sac and Fox Indians
To the Senate and House of Representatives:
In compliance with the provisions of section 14 of the act of March 2, 1889, I transmit herewith, for the consideration of Congress, an agreement concluded between the commissioners appointed under that section on behalf of the United States, commonly known as the Cherokee Commission, and the Sac and Fox Nation of Indians in the Indian Territory on the 12th day of June last.
The Sac and Fox Nation have a national council, and the negotiation was conducted with that body, which undoubtedly had competent authority to contract on behalf of the tribe for the sale of these lands. The letter of the Secretary of the Interior and the accompanying papers, which are submitted herewith, furnish all the information necessary to the consideration of the questions to be determined by Congress.
The only serious question presented is as to that article of the agreement which limits the distribution of the funds to be paid by the United States under it to the Sac and Fox Indians now in the Indian Territory. I very gravely doubt whether the remnant or band of this tribe now living in Iowa has any interest in these lands in the Indian Territory. The reservation there was apparently given in consideration of improvements upon the lands of the tribe in Kansas. The band now resident in Iowa upon lands purchased by their own means, as I am advised, left the Kansas reservation many years before the date of this treaty, and it would seem could have had no equitable interest in the improvements on the Kansas lands, which must have been the result of the labors of that portion of the tribe living upon them. The right of the Iowa band to a participation in the proceeds of the sale of the Kansas reservation was explicitly reserved in the treaty; but it seems to me upon a somewhat hasty examination of the treaty that the reservation in the Indian Territory was intended only for the benefit of those who should go there to reside. The Secretary of the Interior has expressed a somewhat different view of the effect of this treaty; but if the facts are, as I understand, that the Iowa band did not contribute to the improvements which were the consideration for the reservation and did not accept the invitation to settle upon the reservation lands in the Indian Territory, I do not well see how they have either an equitable or legal claim to participate in the proceeds of the sale of those lands.
The whole matter is submitted for the consideration of Congress.
BENJ. HARRISON
Benjamin Harrison, Message to Congress Transmitting an Agreement Between the Cherokee Commission and the Sac and Fox Indians Online by Gerhard Peters and John T. Woolley, The American Presidency Project https://www.presidency.ucsb.edu/node/205986