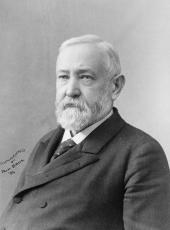 Message to Congress Requesting Authority to Provide Relief to Settlers in the Oklahoma Territory
To the Senate and House of Representatives:
I have received, under date of July 29 ultimo, a communication from Hon. George W. Steele, governor of the Territory of Oklahoma, in which, among other things, he says:
A delegation from township 16, range 1, in this county, has just left me, who came to represent that there are at this time twenty-eight families in that township who are in actual need of the necessaries of life, and they give it as their opinion that their township is not an exception, and that in the very near future a large proportion of the settlers of this Territory will have to have assistance.

This I have looked for, but have hoped to bridge over until after the legislature meets, when I thought some arrangement might be made for taking care of these needy people; but with little taxable property in the Territory, and very many necessary demands to be made and met, I doubt if the legislature will be able to make such provision until a crop is raised next year as will be adequate to the demands.* * *

Now I know whereof I speak, and I say there are a great many people in this Territory who have not the necessary means of providing meals for a day to come and are being helped by their very poor neighbors. No one regrets more than I do the necessity of making the foregoing statement, and I have hoped to bridge the matter over, as I have said before, until the legislature would meet and see if some provision could be made.

I now see the utter hopelessness of such a course, and I beg of you to call the attention of Congress to the condition of our people, with the earnest hope that provision may be made whereby great suffering may be relieved; and I assure you that so far as I am able to prevent it not one ounce of provisions or a cent of money contributed to the above need shall be improperly used.
Information received by me from other sources leads me to believe that Governor Steele is altogether right in his impression that there will be, unless relief is afforded either by public appropriation or by organized individual effort, widespread suffering among the settlers in Oklahoma. Many of these people expended in travel and in providing shelter for their families all of their accumulated means. The crop prospects for this year are by reason of drought quite unfavorable, and the ability of the Territory itself to provide relief must be inadequate during this year.
I am advised that there is an unexpended balance of about $45,000 of the fund appropriated for the relief of the sufferers by flood upon the Mississippi River and its tributaries, and I recommend that authority be given to use this fund to meet the most urgent necessities of the poorer people in Oklahoma. Steps have been taken to ascertain more particularly the condition of the people throughout the Territory, and if a larger relief should seem to be necessary the facts will be submitted to Congress. If the fund to which I have referred should be made available for relief in Oklahoma, care will be taken that so much of it as is necessary to be expended shall be judiciously applied to the most worthy and necessitous cases.
BENJ. HARRISON
Benjamin Harrison, Message to Congress Requesting Authority to Provide Relief to Settlers in the Oklahoma Territory Online by Gerhard Peters and John T. Woolley, The American Presidency Project https://www.presidency.ucsb.edu/node/206130