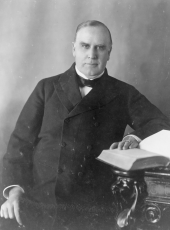 Message to Congress
To the Senate and House of Representatives:
I transmit herewith for the consideration of the respective Houses of the Congress, a report of the Secretary of State representing the appropriateness of early action in order that the Government of the United States may be enabled to accept the invitation of that of the French Republic to participate in the Universal Exposition to be held at Paris in 1900.
The recommendations of this report have my most cordial approval, and I urge upon the Congress such timely provision for this great international enterprise as will fittingly respond to the widely testified wish and expectation of our inventors and producers that they may have adequate opportunity again, as in the past, to fortify the important positions that have won in the world's competitive fields of discovery and industry. Nor are the traditional friendships of the United States and France and the mutual advantages to accrue from their enlarged commercial intercourse less important factors than the individual interests to be fostered by renewed participation in a great French exposition, especially when it is remembered that the present display is projected with a degree of completeness and on a scale of magnificence beyond any of the European exhibitions that have marked the close of the century.
It is proper that I should emphasize the need of early action, for if the present session pass without suitable provision being made, the postponement of the matter for nearly a year longer could not but operate greatly to the disadvantage of the United States, in view of the elaborate preparations already making by other governments, and of the danger that further delay may result in an inadequate allotment of space to this country as well as an incomplete organization of the American exhibit.
WILLIAM MCKINLEY
William McKinley, Message to Congress Online by Gerhard Peters and John T. Woolley, The American Presidency Project https://www.presidency.ucsb.edu/node/205758