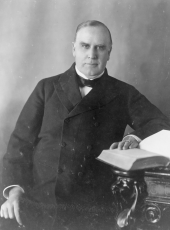 Message to Congress
To the Congress of the United States:
The act of Congress, approved July 19, 1897, entitled "An act making appropriations to supply deficiencies in the appropriations for the fiscal year ending June 30, 1897, and for prior years, for other purposes," provided for the acceptance by the Government of the United States of the invitation extended by the Republic of France to participate in an international exposition to be held at Paris, from April 15 to November 15, 1900, and authorized the President to appoint a special commissioner with a view to securing all attainable information necessary to a full and complete understanding by Congress in regard to the participation of this Government in that exposition.
Maj. Moses P. Handy of Chicago, was appointed such special commissioner, and I now enclose his report, giving the details of his mission. It is a comprehensive and clear presentation of the situation. He recommends that an appropriation of $919,600 be granted, so that a creditable exhibit on behalf of the United States may be made. The details of this report will show how this appropriation may be profitably expended.
Besides securing a much larger amount of space than had been reserved, Major Handy obtained the gratifying assurance that the United States will be placed on a footing with the most favored nations, and "that in the installation of every important department the United States will have a location commensurate with the dignity and importance of the country and adjoining in every case countries of the first rank."
In view of the magnitude and importance of the approaching exposition, and of our standing among the nations which will be there represented, and in view also of our increased population and acknowledged progress in arts, science, and manufactures, I earnestly commend the report of Major Handy to your consideration, and trust that a liberal appropriation may be made.
Moreover, the magnificent exhibit of the French Republic at Chicago in 1893, on which a million dollars were expended, should be a strong incentive to reciprocal liberality on the part of the Government of the United States, and suggests to our citizens the necessity as well as the propriety of installing at the Paris Exposition an exhibit on a par with that of the Government and people of France at Chicago, and in keeping with the scope and extent of the preparations which are being made by nearly all the important nations of the earth for their proposed exhibits in that exposition.
I suggest that the subject be given timely and favorable consideration.
WILLIAM McKINLEY
William McKinley, Message to Congress Online by Gerhard Peters and John T. Woolley, The American Presidency Project https://www.presidency.ucsb.edu/node/268293