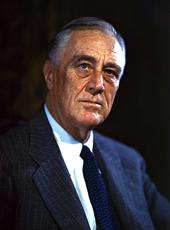 Message on Christmas Eve.
This year I am speaking on Christmas Eve not to this gathering at the White House only but to all of the citizens of our Nation, to the men and women serving in our American armed forces and also to those who wear the uniforms of the other United Nations.
I give you a message of cheer. I cannot say "Merry Christmas"-for I think constantly of those thousands of soldiers and sailors who are in actual combat throughout the world—but I can express to you my thought that this is a happier Christmas than last year in the sense that the forces of darkness stand against us with less confidence in the success of their evil ways.
To you who toil in industry for the common cause of helping to win the war, I send a message of cheer- that you can well continue to sacrifice without recrimination and with a look of Christmas cheer—a kindly spirit toward your fellow men.
To you who serve in uniform I also send a message of cheer that you are in the thoughts of your families and friends at home, and that Christmas prayers follow you wherever you may be.
To all Americans I say that loving our neighbor as we love ourselves is not enough—that we as a Nation and as individuals will please God best by showing regard for the laws of God. There is no better way of fostering good will toward man than by first fostering good will toward God. If we love Him we will keep His Commandments.
In sending Christmas greetings to the armed forces and merchant sailors of the United Nations we include therein our pride in their bravery on the fighting fronts and on all the seas. But we remember in our greetings and in our pride those other men who guard remote islands and bases and will, in all probability, never come into active combat with the common enemy. They are stationed in distant places far from home. They have few contacts with the outside world, and I want them to know that their work is essential to the conduct of the war- essential to the ultimate victory—and that we have not forgotten them.
It is significant that tomorrow- Christmas Day- our plants and factories will be stilled. That is not true of the other holidays we have long been accustomed to celebrate. On all other holidays work goes on—gladly—for the winning of the war. So Christmas becomes the only holiday in all the year.
I like to think that this is so because Christmas is a holy day. May all it stands for live and grow throughout the years.
Franklin D. Roosevelt, Message on Christmas Eve. Online by Gerhard Peters and John T. Woolley, The American Presidency Project https://www.presidency.ucsb.edu/node/210284