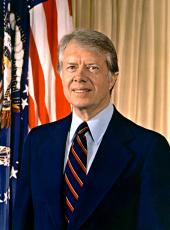 Message to American Indian
Dear Tribal Council Leader: Last week in Albuquerque, I met with leaden of the National Congress of American Indians, the National Tribal Chairmen's Association, and tribal chairmen from 10 states. It was a good opportunity for me to learn more about the concerns of our first Americans.
As the Democratic candidate for President, I recognize the unique relationship between the federal government and native Americans, and I believe that to the greatest extent possible, programs for Indian tribes should be designed, implemented, and managed by Indian tribes. Indian people should be able to make their own decisions regarding budget priorities, the operation of their schools, the best use of their land, water, and mineral resources, and the direction of their economic development. Selfgovernment must mean that the majority of decisions affecting Indian tribes will be made in the tribal council room and not in Washington, D.C.
Today, duplication of effort, waste, and neglect pervade the administration of programs and inhibit self-determination, while newly enacted legislation is often bogged down for months waiting for the bureaucracy to develop confusing administrative regulations. A large percentage of federal money is eaten up through the administrative overlap and waste. Federal dollars appropriated for Indian programs are often misspent and misallocated to programs that are unwanted by, and of little use to Indians.
As part of my plans to reorganize government, I intend a complete review of all federal programs designed for Indian people, to be conducted with the full participation of Indian leaders from tribal, urban, and national organizations. This review will determine the best manner by which the trust responsibility should be assured and maintained; it will consider how Indian legal interests, including land, water, and energy resources, can best be represented in the future; it will analyze the administration of Indian programs and recommend changes to cut overhead costs and to assure that Indian needs are really being served; and it will develop plans for full participation by Indian tribes in the operation of their programs. We must obey and implement our treaty obligations to the American Indians.
I will review and revise as necessary, the federal laws relating to the American Indians, and the functions and purposes of the Bureau of Indian Affairs. The guiding principles of my review will be a strengthened reaffirmation of our legal and moral trust responsibilities to the American Indians, and a strong, personal respect for the dignity of each of our first Americans.
Finally, I will not take unilateral action on any issue regarding Indian affairs, or Indian programs without full consultation with tribal representatives. Ours will be a government of participation, of action, of program involvement, and of true self-government
Sincerely,
Jimmy Carter.
Jimmy Carter, Message to American Indian Online by Gerhard Peters and John T. Woolley, The American Presidency Project https://www.presidency.ucsb.edu/node/347655