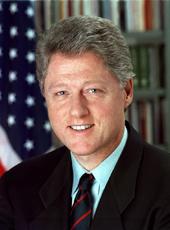 Memorandum on Withdrawal of Russian Armed Forces From Lithuania, Latvia, and Estonia
Presidential Determination No. 93-24
Memorandum for the Secretary of State
Pursuant to the Foreign Operations, Export Financing, and Related Programs Appropriations Act, 1993 ( Public Law 102-391) (the "Act"), including subsection (e) under the heading "Assistance for the New Independent States of the Former Soviet Union" in Title II of the Act, I hereby certify that substantial withdrawal has occurred of the armed forces of Russia and the Commonwealth of Independent States from Lithuania, Latvia, and Estonia.
You are authorized and directed to notify the Congress of this determination and to publish it in the Federal Register.


WILLIAM J. CLINTON
THE WHITE HOUSE,
Washington, May 31, 1993.

---
Memorandum of Justification Regarding Certification Under the Foreign Operations, Export Financing, and Related Programs Appropriations Act, 1993 (Public Law 102-391)
The United States continues to give its active support to Estonia, Latvia and Lithuania in their efforts to achieve the complete and expeditious withdrawal of Russian and CIS troops from their territory. This Administration has placed a high priority on promoting troop withdrawals from the Baltic states. At the Vancouver summit, in meetings with President Yeltsin and Foreign Minister Kozyrev, the Russians were urged to abide by their political commitment to withdraw their forces from the Baltics as soon as possible. As a tangible step to help promote troop withdrawals from the Baltics, at the Vancouver summit the U.S. announced contributions of $ 6 million to a housing program for demobilized Russian army officers. Furthermore, the Administration is proposing to the Congress that we extend an additional $ 160 million for officer resettlement as part of our $ 1.8 billion assistance program.
In the summer of 1992, President Yeltsin stated publicly that the political decision had been made to withdraw Russian/CIS forces from the Baltics. We have continually urged Russia to carry out that commitment as soon as possible.
At a meeting of NACC Defense Ministers in Brussels on March 29, Russian Defense Minister Grachev reiterated an October 1992 statement by President Yeltsin to suspend troop withdrawals from the Baltics. The United States joined other NACC members in challenging Grachev's statement. Defense Minister Grachev subsequently assured the Baltic governments that withdrawals would continue.
Some Russian officials, including President Yeltsin, have raised alleged human rights abuses of ethnic Russians living in the Baltics as a factor in the pace of troop withdrawals. The United States believes that withdrawals should continue unconditionally but recognizes that the treatment of ethnic Russians in the Baltics is of great political significance. This Administration, therefore, has supported international fact-finding missions to the Baltic states and has encouraged all parties concerned to engage in a constructive dialogue in order to find mutually satisfactory resolutions to these issues.
Estonia, Latvia and Lithuania have separately held regular rounds of talks with Russian officials on key bilateral issues, with troop withdrawals being one of the highest priorities.
In an agreement signed by the Russian and Lithuanian Defense Ministers on September 8, 1992, Russia agreed to withdraw all Russian/CIS forces from Lithuania by August 31, 1993. Russian/CIS forces have been withdrawing steadily from Lithuania since last fall. The 7th armored division left Vilnius at the end of 1992. In a visit to Vilnius on April 8, Sergei Stepashin, the Chairman of the Defense and Security Committee of the Russian Parliament stated publicly that he could confirm that all Russian forces would depart Lithuania by August 31, 1993. Both President Yeltsin and Defense Minister Grachev have reaffirmed that commitment.
Russian/CIS forces have steadily departed Estonia over the past year. The final four Russian military aircraft based in Estonia were withdrawn on March 26, 1993. Estonia's chief negotiator on troop withdrawal issue, Juri Luik, stated on April 8 that preparations for a troop withdrawal agreement were in their final states. The major roadblock remains an agreement on the schedule of withdrawals.
Of the three Baltic Republics, Latvia has experienced the slowest rate of withdrawal. In mid-March, Latvian and Russian negotiators were able to initial seven additional troop-related agreements (for a total of nine). They included agreements on railway transportation of troops, the entry of Russian warships, usage of airspace, postal services, and the crossing of the Latvian border. The key difficulty in the negotiations has been determination of a mutually acceptable timetable for withdrawals.
Although we are encouraged by signs of progress in the negotiations, we recognize that they are difficult and there remain considerable obstacles to achieving agreements on a schedule of withdrawals. Despite the lack of agreed timetables with Latvia and Estonia, there have been substantial withdrawals in all three Baltic Republics. Although hard figures on Russian/CIS troop levels in the Baltics are difficult to obtain, best estimates are that there were at least 120,000 Russia/CIS forces in the Baltics at the beginning of 1992. As a result of withdrawals mainly in the latter half of 1992 and early 1993, the remaining Russian troop presence in the individual Baltic states is in the following ranges:
Remaining Troop Level
Estonia 5,900-9,000
Latvia 20,000-23,000
Lithuania 12,500-17,000
Troop levels have, therefore decreased by 60-70 percent over the course of the past year.
The United States will continue to work with Estonia, Latvia, Lithuania, Russia and other concerned countries in seeking a satisfactory resolution of the troop withdrawal issue leading to a complete withdrawal.
William J. Clinton, Memorandum on Withdrawal of Russian Armed Forces From Lithuania, Latvia, and Estonia Online by Gerhard Peters and John T. Woolley, The American Presidency Project https://www.presidency.ucsb.edu/node/327711