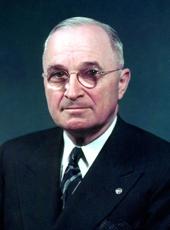 Memorandum Urging Agency Cooperation in Enforcing Price and Wage Stabilization Orders.
[Released January 27, 1951. Dated January 26, 1951]
To the heads of executive departments and agencies:
IT IS imperative that the economic stabilization orders issued today receive the fullest possible support by business and industry and by the people of the nation. The initial success of these orders in accomplishing their purposes for the good of all will require sacrifice and a high degree of self-restraint. The Federal Government must be prepared to do everything in its power to insure equitable and just administration of these orders and to obtain full compliance with them.
Until such time as the Economic Stabilization Agency can recruit and train the staff it will need, all departments and agencies should make whatever contribution they can to assure the success of our efforts to stabilize prices and wages. It is understood that essential work now programmed may have to be postponed temporarily. Therefore, as President of the United States and pursuant to the authority vested in me by the Constitution and statutes, including section 403 of the Defense Production Act of 1950, I call upon each agency to make its resources in staff, and knowledge and experience available to the Economic Stabilization Agency, including the Office of Price Stabilization and the Wage Stabilization Board, to the extent requested by the Director of Defense Mobilization.
Specifically, each agency shall provide such cooperation and assistance, consonant with law, as it can, of the following types:
1. Assignment of personnel in Washington, D.C., and in regional and field offices on a reimbursable loan basis for temporary periods as agreed upon in individual cases, including
(a) Personnel qualified in investigation, intelligence, and enforcement duties and functions, and the supervision and administration thereof, except that, in view of the responsibility of the Federal Bureau of Investigation in the field of internal security, no agents shall be assigned without the consent of the Attorney General.
(b) Personnel qualified in the study and analysis of costs, prices, wages, working conditions, and other economic and social data relating thereto.
2. Furnishing any available reports, information, or other data concerning costs of production, distribution and transportation, prices and price trends, profits, and wages and wage trends.
3. Providing such other services, information, and facilities as may be appropriate.
In many cases rapid implementation of this program will require early notification of field offices and establishments, by you, of arrangements whereby these offices and establishments can be most effective in providing assistance.
HARRY S. TRUMAN
Note: On January 26, 1951, the Office of Price Stabilization, Economic Stabilization Agency, issued a General Ceiling Price Regulation (16 F.R. 808) freezing prices on most commodities and services at the highest levels charged between December 19, 1950, and January 25, 1951. At the same time, as required by the Defense Production Act of 1950, wages and other compensation were frozen at the rates paid on January 25, by order of the Wage Stabilization Board, Economic Stabilization Agency (16 F.R. 816).
Harry S. Truman, Memorandum Urging Agency Cooperation in Enforcing Price and Wage Stabilization Orders. Online by Gerhard Peters and John T. Woolley, The American Presidency Project https://www.presidency.ucsb.edu/node/230817