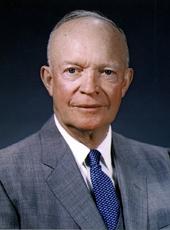 Memorandum on the Red Cross Campaign.
To the Heads of Executive Departments and Agencies:
The Red Cross has long since become an important and valued feature of American life. As a great fellowship, it welcomes all as members. Its activities are so far flung and so vital to our Nation that it seems advisable, occasionally, to remind ourselves of their scope and character. In war it renders so many services, so well, to men fighting for freedom, that among the armed forces no morale factor is more important than the Red Cross. In peace the American spirit of people helping people is demonstrated through Red Cross services. In disasters it mitigates sufferings caused by fire, famine, pestilence, tornado and flood. Through its civilian and military blood donor program it means life to thousands of men, women and children each year. Through its activities the Red Cross is on duty everywhere, in the United States and abroad, in the humblest homes, in great disasters. It serves all creeds, all races, all countries.
The personnel of the Federal Government has set a consistently high standard of generous giving to the Red Cross. I hope this fine record will continue this year under the leadership of the Honorable Arthur E. Summerfield, the Postmaster General, whom I have designated as Chairman of the Government Unit in the 1954 Metropolitan Area Red Cross Fund Campaign. His own wealth of experience in community welfare challenges the hearty and active cooperation of each department head. To give him your support most effectively, you will undoubtedly want to create within your department a Red Cross organization adequate to give everyone an opportunity to contribute and attain the goal desired from your department. Likewise I hope that you will request all personnel in your departmental field offices to help the Red Cross by generous cooperation with their local Red Cross Chapters.
The Red Cross through its purposes, its work and the people who belong to it, helps us to realize man is made of nobler qualities than those of selfishness, greed and personal advantage. The Red Cross gives practical application in a vast human field to those great and noble virtues of man that are the richest heritage from the Almighty.
DWIGHT D. EISENHOWER
Dwight D. Eisenhower, Memorandum on the Red Cross Campaign. Online by Gerhard Peters and John T. Woolley, The American Presidency Project https://www.presidency.ucsb.edu/node/231928