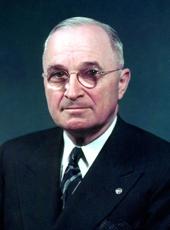 Memorandum on the Need for Reducing Expenditures.
To the Heads of Executive Departments and Agencies:
The present inflationary situation and the need for reducing the public debt make it imperative that expenditures be held at the lowest possible level. You have already been advised of the policies that will govern the 1948 Budget and I shall expect to see those policies reflected in your 1948 estimates as submitted to the Bureau of the Budget. This letter is intended to direct your attention to the need for economies in the fiscal year 1947.
Our present fiscal situation is a most serious one. We are faced with a continued substantial Budget deficit in the present fiscal year. Even those Federal expenditures which are most necessary have the effect of increasing inflationary pressures in the total national economy. We must do everything within our power to reduce inflationary pressures. One of the most effective means of doing this is to reduce Federal expenditures.
Toward this end I have sent letters dealing with specific programs to the heads of a few departments. I am asking the Secretaries of War and Navy and the Maritime Commission to reduce expenditures substantially below the amounts they had previously programmed for this fiscal year. I am asking various agencies concerned with public works to postpone commitments and actual construction so far as possible, and to keep their expenditure programs within certain specified totals.
These specific steps must be accompanied by similar measures for all other Federal functions and activities which will reduce expenditures materially under the amounts previously estimated for the present year. Accordingly you are requested to review the expenditure program of your department or agency. In view of the present fiscal situation, you should not hesitate to eliminate work of low priority.
In addition to such major curtailments as may be possible, smaller economies must not be overlooked. In this connection it is particularly important that the Federal Government not compete with private demand for items in short supply. Such items as construction materials, automobiles, and office equipment should not be purchased before January 1947, except in cases of urgent necessity. In the case of such scarce commodities as lumber and textiles, procurement should be deferred to an even later date.
Salaries for personal services are the largest single item of expense in many establishments. As you know, it is the intention of the Congress and of the Administration that the recent civilian pay increase be absorbed to a very considerable extent. I believe this can be done if active attention is given to all feasible methods of improving personnel utilization. Economies and short cuts should be introduced in all operations. Necessary reorganizations of staff should be completed quickly to promote efficiency in going forward with essential work.
I am counting upon your active support in this program.
HARRY S. TRUMAN
Note: For letters dealing with specific programs, see Items 194 and 195.
Harry S. Truman, Memorandum on the Need for Reducing Expenditures. Online by Gerhard Peters and John T. Woolley, The American Presidency Project https://www.presidency.ucsb.edu/node/231957