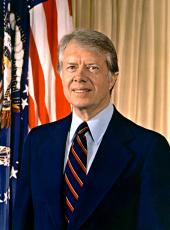 Memorandum of Disapproval of the United States Aquaculture Bill
MEMORANDUM OF DISAPPROVAL
I have withheld approval from H.R. 9370, "A bill to establish new Federal programs and assistance for the development of aquaculture in the United States."
While the underlying purpose of the bill—development of an active aquaculture industry is sound, I am concerned that the numerous broad-reaching programs established under the bill are premature. H.R. 9370 would establish a National Aquaculture Council to assess the state of aquaculture in the U.S. and to prepare a National Aquaculture Development Plan—a detailed set of Federal activities to expand the commercial potential of certain aquatic species. It would establish substantial new programs of Federal assistance to carry out the plan and undertake demonstration projects in aquaculture. The bill also would create a Federal Aquaculture Assistance Fund to provide financial assistance and support to the aquaculture industry through a new Federal loan guarantee program and a new Federal insurance program.
The Administration recognizes the importance of aquaculture, the need for effective programs to support this, and the concept of an assessment of the aquaculture industry. In fact, many of the actions that the bill would require are already underway. Federal agencies are now involved in a wide variety of aquaculture activities, and they already have the legislative authorities they need to provide research and technical and financial assistance to the aquaculture industry. For example, the Small Business Administration can assist small business concerns which are engaged in aquaculture. The Department of Commerce, through its aquaculture research activities and the Sea Grant program, is supporting marine research, development, and advisory services. The Department of the Interior spends about $15 million yearly on freshwater aquaculture at its fish hatcheries, research and development laboratories, and cooperative fishery units. The Agriculture Department provides a complete range of information and technical assistance related to aquaculture. Additionally, the Farm Credit Administration is authorized to extend credit to harvesters of aquatic products.
We also have in place a way to coordinate the aquaculture programs of the Federal Government—namely, the Interagency Subcommittee on Aquaculture of the Federal Council on Science and Technology.
Given this array of Federal activities, I believe we should more carefully assess the need for additional programs in this area. In particular, I am concerned about offering major new government subsidies such as the loan guarantee and insurance programs unless and until a clear need for them has been established. Accordingly, I must withhold my approval of the bill.
My Administration will continue to assess the needs of aquaculture and the effectiveness and adequacy of the Federal programs in this area. We look forward to reviewing these programs next year with the sponsors of this measure in the hope we can agree on additional improvements in the government's aquaculture program.
JIMMY CARTER

The White House,

October 18, 1978.
Note: The text of the memorandum of disapproval was released on October 19.
Jimmy Carter, Memorandum of Disapproval of the United States Aquaculture Bill Online by Gerhard Peters and John T. Woolley, The American Presidency Project https://www.presidency.ucsb.edu/node/244163