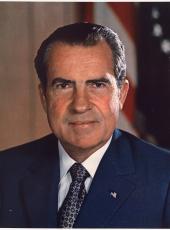 Memorandum of Disapproval of the National Environmental Data System and Environmental Centers Act of 1972.
I AM withholding my approval from H.R. 56.
My objections to this bill are centered upon two of its titles which would establish a National Environmental Data System and create environmental centers in each State. While both of these titles sound desirable in theory, they would in reality lead to the duplication of information or would produce results unrelated to real needs and wasteful of talent, resources, and the taxpayers' money.
A third portion of H.R. 56 would direct the Federal Government to purchase the Klamath Indian Forest lands in Oregon. After studying this proposal carefully, I believe this purchase would be sound public policy, and if the next Congress provides the necessary funds, I shall happily approve the acquisition of these unique lands.
In the form now before me, Title I of this legislation calls for the establishment of an independent, centralized environmental data system for the acquisition, storage and dissemination of information relating to the environment. Data for the system would come from governmental, international and private sources. A Director, who would be under the guidance of the Council on Environmental Quality, would determine what data would actually be placed in the system and who would have access to the data.
I believe there are serious drawbacks to such a data system which would outweigh potential benefits. The collection of data and statistics on the supposition that some day they may be useful is in itself a highly dubious exercise. Data, taken out of the context of the questions they were specifically designed to answer, can even contribute to confusion or be misleading.
With this in mind, I believe the centralized collection of environmental data should be related to specific policies and programs. H.R. 56 fails to provide such a relationship and the question of whether this basic deficiency can be overcome, and a useful centralized system designed, is now under study by the Administration. In the meantime, the Environmental Protection Agency and other agencies have consistently worked to strengthen the acquisition and exchange of such data and this effort will continue.
Title II of this legislation authorizes the establishment of environmental centers in every State to conduct research in pollution, natural resource management, and other local, State or regional problems. The centers would also train environmental professionals and carry out a comprehensive education program.
Research is a vital part of our effort to come to grips with the environmental problems we face. This Administration is currently spending literally hundreds of millions of dollars through directed research efforts sponsored by the Environmental Protection Agency, the Department of the Interior, the National Oceanic and Atmospheric Administration, the Department of Agriculture, and the Department of Health, Education, and Welfare--to name but a few. We will continue these programs and institute others where they are needed.
Academic talent and resources have a vital role to play in the success of our environmental research programs. As members of the academic community know, grants for research are awarded on the basis of not only the merits of the project, but also the capabilities of the institution to carry out its responsibilities. By creating research centers on a rigid State-by-State basis, and requiring that each be funded, the Congress is asking us to throw away our priorities and to fund programs regardless of their merits and in spite of the limited capabilities of some institutions. Equally important, this approach also ignores the competence and available capacity of already existing institutions and laboratories to carry out this vital research.
Further, I share the view of the Administrator of the Environmental Protection Agency that environmental problems are essentially national in scope, and that most problems, even though they may appear to be local in nature, really affect many other States and localities as well. To the extent there may be local problems, our present project-by-project approach in research can be used to marshal the best scientific talents, wherever they are located, to deal with such problems. Thus, there is clearly no justification for establishing up to 51 new environmental centers specifically charged with investigation of State and local environmental problems.
Titles III and IV of the bill direct the Secretary of Agriculture to purchase attract of 113,000 acres in the Klamath Indian Forest in Oregon. I believe that acquisition of this forest area would mark a significant and worthwhile addition to our National Forest System while, at the same time, assuring full environmental protection to this scenic part of Oregon.
RICHARD NIXON

THE WHITE HOUSE,

October 21 , 1972.
Richard Nixon, Memorandum of Disapproval of the National Environmental Data System and Environmental Centers Act of 1972. Online by Gerhard Peters and John T. Woolley, The American Presidency Project https://www.presidency.ucsb.edu/node/255262