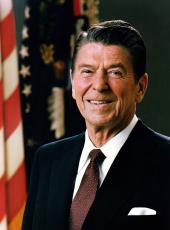 Memorandum of Disapproval on the Bill Authorizing the Refinancing of Certain Small Business Debentures
I am withholding my approval of S. 437, a bill "to authorize the refinancing of certain small business debentures, and for other purposes." The bill would have shortchanged American taxpayers by allowing certain borrowers to prepay their Federally guaranteed loans at reduced premiums.
Under Section 503 of the Small Business Investment Act of 1958, the Small Business Administration may guarantee a particular type of bond, known as a debenture, issued by State and local development companies. The companies have sold these debentures to the Department of the Treasury's Federal Financing Bank and used the proceeds received to make loans to small business borrowers.
The amendment made by Section 1 of S. 437 would have permitted development companies to prepay their debentures held by the Bank at substantially reduced premiums and to finance the prepayments by issuing new debentures fully guaranteed by the Government. Such an arrangement would in effect allow a borrower to change the borrowing terms to which it had previously agreed any time it is financially favorable to the borrower—and therefore unfavorable to the Bank and American taxpayers-to do so. Although prepayments under the amendments made by Section 1 of S. 437 temporarily would have reduced the Federal deficit, in future years the deficit would have been substantially increased as the result of the borrowers' avoidance of interest payments that would have been paid in the absence of prepayments.
Under Section 303 of the Small Business Investment Act, the Small Business Administration may purchase debentures issued by a small business investment company. The amendment made by Section 2 of S. 437 authorizes adjustment in certain circumstances of the interest rates on such debentures and provides that the face amount of the debenture with an adjusted interest rate will not be treated as new budget authority or new credit authority. This artificial budget accounting rule conflicts with the Federal budget accounting practices of the Office of Management and Budget and the Congressional Budget Office. The result of this accounting sleight of hand would have been to understate the adverse impact of Section 2 of S. 437 on the Federal budget deficit.
RONALD REAGAN

The White House,

October 31, 1988.
Ronald Reagan, Memorandum of Disapproval on the Bill Authorizing the Refinancing of Certain Small Business Debentures Online by Gerhard Peters and John T. Woolley, The American Presidency Project https://www.presidency.ucsb.edu/node/252554