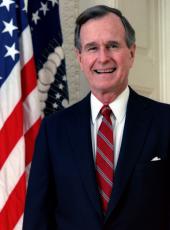 Memorandum of Disapproval for the Omnibus Export Amendments Act of 1990
I am withholding my approval of H.R. 4653, the "Omnibus Export Amendments Act of 1990." Although this legislation contains constructive provisions, it would severely constrain Presidential authority in carrying out foreign policy.
I agree with the principal goals of this bill, which include improved export controls for, and sanctions against the use of, chemical and biological weapons; sanctions on Iraq; missile technology sanctions; and reauthorization of the Export Administration Act. Indeed, I have recently signed into law provisions on missile technology sanctions and sanctions against Iraq comparable to those contained in this bill. H.R. 4653, however, contains elements that I believe would undermine these objectives and our ability to act quickly, decisively, and multilaterally at a time when we must be able to do so. These provisions unduly interfere with the President's constitutional responsibilities for carrying out foreign policy. Rather than signing the bill, I am directing action under existing authorities to accomplish the bill's principal goals.
I am pleased that the Congress endorses my goal of stemming the dangerous proliferation of chemical and biological weapons. The Administration has worked closely with the Congress to design appropriate and effective legislation to improve our ability to impose sanctions on the nations that use such weapons and any companies that contribute to their spread. Indeed, the Administration supported the House version of the sanctions provision. Throughout discussions with the Congress, my Administration insisted that any such legislation should not harm cooperation with our partners and should respect the President's constitutional responsibilities. Unfortunately, as reported from conference, H.R. 4653 does not safeguard those responsibilities, nor does it meet our broader foreign policy goals.
The major flaw in H.R. 4653 is not the requirement of sanctions, but the rigid way in which they are imposed. The mandatory imposition of unilateral sanctions as provided in this bill would harm U.S. economic interests and provoke friendly countries who are essential to our efforts to resist Iraqi aggression. If there is one lesson we have all learned in Operation Desert Shield, it is that multilateral support enhances the effectiveness of sanctions.
Because of my deep concern about the serious threat posed by chemical and biological weapons, I have signed an Executive order directing the imposition of the sanctions contained in this bill and implementing new chemical and biological weapon export controls. This Executive order goes beyond H.R. 4653 in some respects. It sets forth a clear set of stringent sanctions, while encouraging negotiations with our friends and allies. It imposes an economic penalty on companies that contribute to the spread of these weapons and on countries that actually use such weapons or are making preparations to do so. At the same time, it allows the President necessary flexibility in implementing these sanctions and penalties. Furthermore, the Executive order reaffirms my determination to achieve early conclusion of a verifiable global convention to prevent the production and use of chemical weapons.
The Executive order also directs the establishment of enhanced proliferation controls, carefully targeted on exports, projects, and countries of concern. On this issue, as with other important export control matters, my goal is to pursue effective, multilateral export controls that send the clear message that the United States will not tolerate violations of international law.
I am also concerned that other features of H.R. 4653 would hamper our efforts to improve the effectiveness of export controls. In the rapidly changing situation in Eastern Europe, and in bilateral relationships with the Soviet Union, we have demonstrated the ability to adjust, in cooperation with our allies, export controls on high technology to reflect the new strategic relationships. Last May I asked our allies to liberalize dramatically our multilateral export controls. Negotiations designed to liberalize trade to encourage democratic institutions and open market economies will continue. Our multilateral export controls have contributed significantly to the positive changes brought about in West-East relations. The micromanagement of export controls mandated by H.R. 4653 can only damage these ongoing efforts.
In other areas, H.R. 4653 would be harmful to closely linked U.S. economic and foreign policy interests. For example, under section 128 of the bill there would be extraterritorial application of U.S. law that could force foreign subsidiaries of U.S. firms to choose between violating U.S. or host country laws.
Other sections of H.R. 4653 contain useful provisions that will be implemented as soon as possible. However, additional legal authority is not required to make our export control system reflect the economic and national security realities of today's world. In response to recent world events, I am directing Executive departments and agencies to implement the following changes:
-- By June 1, 1991, the United States will eliminate all dual-use export licenses under section 5 of the Export Administration Act to members of the export control group known as CoCom, consistent with multilateral arrangements. In addition, all re-export licenses under section 5 to and from CoCom will be eliminated, consistent with multilateral arrangements.
-- By June 1, 1991, the United States will remove from the U.S. munitions list all items contained on the CoCom dual-use list unless significant U.S. national security interests would be jeopardized.
-- By January 1, 1991, U.S. review of export licenses subject to CoCom Favorable Consideration and National Discretion procedures will be reduced to 30 and 15 days, respectively.
-- By January 1, 1991, new interagency procedures will be instituted to make dual-use export license decisions more predictable and timely.
-- By January 1, 1991, the Secretary of State will initiate negotiations to ensure that supercomputer export controls are multilateral in nature and not undermined by the policies of other supplier countries. By June 1, 1991, in consultation with industry, we will devise and publish a method to index supercomputer license conditions to reflect rapid advances in the industry and changes in strategic concerns.
-- By January 1, 1991, we will significantly increase the threshold for Distribution Licenses to free world destinations and ensure that at least annually these thresholds are adjusted to reflect changes in technology and are consistent with international relationships, including changing requirements to stem the proliferation of missile technology and nuclear, chemical and biological weapons.
In summary, H.R. 4653 contains serious and unacceptable flaws that would hamper our efforts to prevent the proliferation of weapons of mass destruction and to ease restrictions on the legitimate sale of dual-use goods to acceptable users. Rather than sign this bill, I have chosen to take a series of steps under existing authorities to ensure that mutually shared objectives are met in a timely and effective manner. I will work with the Congress, upon its return, to enact an appropriate extension of the Export Administration Act.
George Bush
The White House,
November 16, 1990.
Note: The President's last day for action on this bill was November 17. The Executive order on chemical and biological weapons proliferation is listed in Appendix E at the end of this volume.
George Bush, Memorandum of Disapproval for the Omnibus Export Amendments Act of 1990 Online by Gerhard Peters and John T. Woolley, The American Presidency Project https://www.presidency.ucsb.edu/node/264869