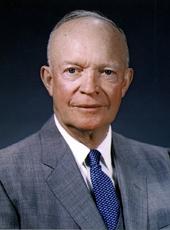 Memorandum of Disapproval of Bills Creating Commissions for the Construction of Ohio River Bridges.
I AM WITHHOLDING my approval from H. R. 10468 and H. R. 10662, bills creating the City of Lawrenceburg Bridge Commission and the City of Cannelton Bridge Commission, respectively. The City of Lawrenceburg Bridge Commission would be authorized to construct, maintain and operate a bridge across the Ohio River at or near Lawrenceburg, Indiana, and Boone County, Kentucky, and to purchase and operate a ferry at this location. The City of Cannelton Bridge Commission would be granted comparable authority with respect to a bridge and a ferry at or near Cannelton, Indiana, and Hawesville, Kentucky.
On July 26, 1956, I approved H. R. 11010, creating a Muscatine Bridge Commission and authorizing it to perform functions similar to those contemplated by H. R. 10468 and H. R. 10662. At that time, I indicated that I would not be inclined to approve the creation of bridge commissions of the type contemplated by that bill in the absence of special emergency circumstances. Because the City of Muscatine, Iowa, and the town of Drury, Illinois, were confronted with a serious disruption of traffic as a result of the collapse of the center span of an existing bridge, and because it appeared that a bridge commission could most quickly undertake the construction of a new bridge, I signed the bill.
I am unaware of any circumstances which would make the provision of bridges at Lawrenceburg and Cannelton so urgent as to justify special Federal legislation creating additional bridge commissions. The construction and operation of interstate bridges, as I stated on July 26, has traditionally been a State rather than a Federal responsibility. The General Bridge Act of 1946 facilitated State action by granting blanket authority for the construction of bridges over navigable streams without the enactment of special authorizing legislation. In those cases in which the States choose to create special interstate agencies to build, maintain and operate toll bridges, they may do so at any time through the negotiation of suitable interstate compacts. I am, therefore, unwilling, under ordinary circumstances, to have the Federal Government take away from the States and their highway agencies the responsibility for providing bridges of concern primarily to the residents of the immediate area to be served.
Bridge commissions of the type provided for by these bills also give rise to serious legal and administrative problems. Because they owe their creation and all of their powers to acts of Congress they cannot be State or local agencies. Yet they are not considered to be instrumentalities of the Federal Government. One result of this uncertainty is the lack of adequate provisions for supervising the activities of bridge commissions in the public interest. No State or Federal official or agency is empowered to see to it that the commissions proposed by H. R. 10468 and H. R. 10662 carry out their responsibilities in a faithful and efficient manner.
This lack of supervision can lead to serious mismanagement and injury to the public interest, as was recently disclosed by a Congressional investigation of the affairs of the White County Bridge Commission. That investigation documented questionable expenditures of many thousands of dollars and led a Select Committee of the House of Representatives to propose drastic measures to prevent future abuses.
I, therefore, suggest that if the States of Indiana and Kentucky determine that these two bridges are needed, they enter into appropriate agreements to proceed with construction under the authority conferred by the General Bridge Act.
DWIGHT D. EISENHOWER
Dwight D. Eisenhower, Memorandum of Disapproval of Bills Creating Commissions for the Construction of Ohio River Bridges. Online by Gerhard Peters and John T. Woolley, The American Presidency Project https://www.presidency.ucsb.edu/node/233059