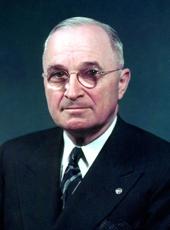 Memorandum of Disapproval of Bill Relating to Garbage Originating Outside the Continental United States.
I HAVE withheld my approval from HR 597, "To protect American agriculture, horticulture, livestock, and the public health by prohibiting the unauthorized importation into, or the depositing in the territorial waters of, the United States of garbage derived from products originating outside of the continental United States, and for other purposes", for the following reasons:
1. In section 1(6) it is provided that the term "United States" when not limited by the adjective "continental", includes all territories and possessions of the United States, "with the exception of the Philippine Islands and the Canal Zone". The reference to the Philippine Islands as a territory or possession of the United States, however inadvertently used, would be seriously embarrassing to this Government in its relations with the Republic of the Philippines, which became a sovereign nation on July 4, 1946.
2. In section 2(a) it is prohibited and made unlawful to throw, discharge, or deposit garbage, or to cause, suffer or procure garbage to be thrown, discharged, or deposited, from any vessel, railway car, aircraft, or other vehicle entering the United States into any territorial waters of the United States "unless such garbage has been reduced to fluid form". This provision seems inadequate to prevent the placing in our territorial waters of garbage which is infected with human or animal diseases. It is necessary in addition to require that such garbage shall be disinfected prior to its discharge into our territorial waters. This requirement is of importance on account of the situation existing in the Canadian boundary waters, especially in the Great Lakes region, since such waters are used for human consumption. Under dates of April 1 and October 3, 1946, Canada and the United States submitted joint references to the International Joint Commission--United States and Canada, to consider measures for the suppression of the pollution of boundary waters consisting of the St. Marys River, St. Clair River, Lake St. Clair and the Detroit River. In connection with this investigation, it has been reported to me that measures may be taken to prevent the dumping of garbage from ships in the vicinity of the intakes of water systems. Such proceedings might be taken under the provision of section 13 of the Act of March 3, 1899 (30 Stat. 1152; 33 U.S.C. 407).
3. By section 9 of the proposed legislation it is provided that nothing contained in section 13 of the Act of March 3, 1899 shall be construed as forbidding the discharge of fluid garbage into the territorial waters of the United States. This provision would remove the legislation whereby proceedings could be instituted against persons dumping infected garbage into Canadian boundary waters although it had been reduced to a fluid state.
HARRY S. TRUMAN
Harry S Truman, Memorandum of Disapproval of Bill Relating to Garbage Originating Outside the Continental United States. Online by Gerhard Peters and John T. Woolley, The American Presidency Project https://www.presidency.ucsb.edu/node/232183