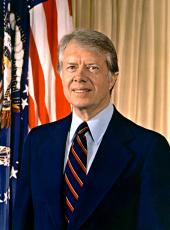 Memorandum of Disapproval of a Bill Providing a Special Federal Employee Death Benefit
I am withholding my approval of H.R. 5888, a bill that provides for payment of a $50,000 lump-sum death benefit to survivors of Federal law enforcement officers, firefighters and certain other employees killed in the line of duty. This benefit would be paid in addition to the regular death benefits available to all Federal employees, and would be retroactive to September 26, 1976.
I am not approving H.R. 5888 because the special benefits it would provide are preferential and unwarranted, and because the bill would become a precedent for extension of similar benefits to other Federal employees.
My disapproval of this bill in no way reflects on the bravery and dedication of Federal employees in law enforcement and firefighting occupations. Nor does it in any way diminish the gratitude that I and this Nation feel for those who sacrifice their lives in the performance of their duty.
H.R. 5888 is objectionable because it would single out certain groups of employees for preferential treatment under the Federal employee workers' compensation law (FECA). Survivor benefits provided by the Federal Government should be adequate in all instances to ease the financial burden resulting from an employee's death, regardless of occupation. Moreover, there are many civilian employees outside the areas of law enforcement and firefighting who are also exposed to special hazards in their work. It is inequitable and unfair to provide a greater benefit to a select group of Federal employees based only on the nature of their employment. Such preferred treatment is directly contrary to the evenhandedness that must be basic to a workers' compensation system.
Under the existing FECA program, the Federal Government already pays generous death benefits to survivors of employees who die on the job. These benefits are tax-free and are adjusted annually for increases in the cost of living. Depending on family size, such benefits can be as high as 75% of the employee's salary while alive, and are limited in total amount and duration only by changed family circumstances. The Government's Group Life Insurance Program, which was recently liberalized for younger employees, also provides substantial protection in the event of an employee's death.
The proponents of H.R. 5888 argue that this legislation is needed to assure parity with State and local police and firefighters, who receive a $50,000 death benefit under a law passed in 1976. However, one of the main reasons for enactment of that law was that States and localities' compensation systems were inadequate or nonexistent and that life insurance coverage was often unavailable. The Congress at that time expressly decided against granting the $50,000 death benefit to Federal firefighters and law enforcement officers because the benefits provided under FECA are comparatively generous and would in many cases exceed the $50,000 payment authorized for State-local public safety officers.
Although the costs entailed in H.R. 5888 are not large, the special treatment provided by the bill would inevitably set a precedent for extension of its benefits to other, if not all, Federal employees who die in the line of duty. This would result in an unwarranted and costly added burden on the taxpayers of this Nation.
Finally, the retroactive provision in the bill is objectionable by arbitrarily excluding employees whose deaths occurred before the effective date.
For all of these reasons, I cannot approve H.R. 5888.
JIMMY CARTER

The White House,

December 23, 1980.
Jimmy Carter, Memorandum of Disapproval of a Bill Providing a Special Federal Employee Death Benefit Online by Gerhard Peters and John T. Woolley, The American Presidency Project https://www.presidency.ucsb.edu/node/250748