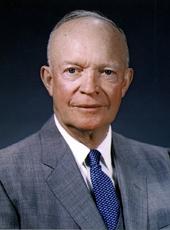 Memorandum of Disapproval of Bill Pertaining to Veterans Housing.
[Released September 3, 1957. Dated September 2, 1957]
I AM WITHHOLDING approval of H. R. 4602, which would extend and expand the direct loan program for housing for veterans in rural areas and small cities and towns.
The Veterans' Administration direct loan program was established for the purpose of granting to veterans for whom guaranteed loans were not readily available an equal opportunity to receive the home ownership benefits of the Servicemen's Readjustment Act. The terms and conditions of these direct loans were intended to conform as closely as possible to the guaranteed loans. Since the direct loan program was established in 1950, approximately $700 million in funds have been disbursed.
In recent months a steadily expanding economy with continued strong demand for available investment funds has resulted in a general rise in the interest rate structure. Because of the higher yields available on other forms of investment, the flow of investment funds into VA guaranteed mortgages has been drastically reduced. To correct this situation, this Administration strongly urged the Congress to increase the maximum interest rate on VA guaranteed mortgages from 4½ to 5 percent. No action was taken on this recommendation and, as a result, eligible veterans are finding guaranteed mortgages almost impossible to obtain. It is still within the power of Congress, however, to stimulate the flow of private investment funds into VA guaranteed mortgages by adjustment of the maximum interest rate.
What the proposed legislation seeks to do is to make substantial amounts of additional mortgage funds available by providing for direct Government loans at interest rates well below the current market. These funds are to be made available only to a limited number of veterans--namely, those in rural areas and small cities and towns. I cannot approve a program that has such a potential inflationary effect upon the economy or that is so discriminatory. There is no justifiable reason for making loans at interest rates below the current market available to some veterans and denying them to others.
Help to veterans in the field of housing can be met most effectively with programs available to all our citizens, veterans and non-veterans alike, through the coordinated activities of the Housing and Home Finance Agency. The recent liberalization of loan terms under the FHA mortgage insurance program should make this program available to a far wider segment of the population, thus stimulating private home building activity to meet the growing needs.
It is my considered judgment that the above mentioned deficiencies of H. R. 4602 are of a magnitude and importance which preclude my approval of the bill.
DWIGHT D. EISENHOWER
Dwight D. Eisenhower, Memorandum of Disapproval of Bill Pertaining to Veterans Housing. Online by Gerhard Peters and John T. Woolley, The American Presidency Project https://www.presidency.ucsb.edu/node/233522