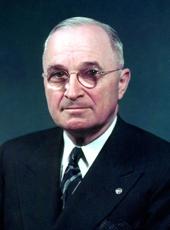 Memorandum of Disapproval of Bill To Permit Part-Time Referees in Bankruptcy To Act for Claimants Against the United States.
[Released August 6, 1947. Dated August 5, 1947]
I RETURN herewith, without my approval, the enrolled bill (H.R. 1810) "To amend the Criminal Code and certain other legislation to permit part-time referees in bankruptcy to act as agents or attorneys for claimants against the United States."
The bill, inter alia, exempts part-time referees in bankruptcy from the provisions of sections 109 and 113 of the Criminal Code (18 U.S.C. 198, 203).
Section 109 of the Criminal Code provides that whoever, being an officer of the United States, or a person holding any place of trust or profit, or discharging any official function under, or in connection with any executive department of the Government of the United States, or under the Senate or House of Representatives, shall act as an agent or attorney for prosecuting any claim against the United States, or receive any gratuity in consideration of having aided or assisted in the prosecution of such a claim, shall be fined not more than $5,000, or imprisoned not more than one year, or both.
Section 113 of the Criminal Code provides that any officer or employee of the United States who receives any compensation for representing a person before any governmental department or bureau shall be fined not more than $10,000 and imprisoned not more than two years, and shall thereafter be barred from holding any office of honor, trust, or profit under the Government of the United States.
Although it is believed that there would be relatively few, if any, officials who would intentionally abuse the privileges and powers of their positions, the foregoing provisions of the Criminal Code have been considered desirable as a deterrent to those few who might carelessly or through temptation besmirch the integrity of, and consequently undermine the public's respect for and confidence in, the Government. They also serve to discourage any undue influence which a government officer or employee might exert, intentionally or not, in representing a client before any of the various government departments, regardless of how remotely such representation may relate to the official duties of the officer or employee. In summary, the provisions are an assurance that the Government will not sanction either the practice or the appearance of officials' or employees' taking improper advantage of their positions in the situations encompassed thereby.
It does not appear that sections 109 and 113 of the Criminal Code were intended to apply to any particular group or class of government personnel, but to all officers and employees in general who come within their provisions. There are doubtless many government officials and employees who would feel justified in seeking exemption from these provisions of law, on grounds as substantial as those which may be advanced by part-time referees in bankruptcy. If, however, the scope of the sections is narrowed by amendments to the point where there is an inference that only certain designated groups of officials are above error or reproach while others are not, the statutes may become less effective, as well as discriminatory and embarrassing.
It is for the foregoing reasons that I am constrained to withhold my approval from the bill.
HARRY S. TRUMAN
Harry S. Truman, Memorandum of Disapproval of Bill To Permit Part-Time Referees in Bankruptcy To Act for Claimants Against the United States. Online by Gerhard Peters and John T. Woolley, The American Presidency Project https://www.presidency.ucsb.edu/node/232162